Hey everyone!! With the holidays coming up right around the corner we thought we'd review one of our most favourite beauty products… Kylie Cosmetics Lip Kits! We always look forward to all of her new collections, and try to get our hands on all her newest colours and products! Over the last year and a half, between the both of us we have accumulated a pretty extensive collection (we cannot help ourselves whenever she announces any new lip colours lol).  Whether you're looking to buy a Christmas gift for a friend, family member, (or even yourself!) she always has incredible promotions during the holidays that she otherwise wouldn't have, such as free international shipping, various gift with purchases, and discounts! Be sure to keep an eye out for these deals especially Black Friday and Cyber Monday! We thought this would be the perfect time to tell you guys all about her three lip kit formulas, what we love about them and how they differ!
Matte Lip Kits
As most of you may know Kylie initially launched Kylie Cosmetics with her Matte liquid lipsticks! In the beginning they were soo hard to get your hands on, as they would sell out in literally seconds (we've had many failed attempts lol). Luckily now on her site they have a fairly large stock and majority of the colours are available for purchase at any given time! The matte lip kips come with both a liquid lipstick and a lip liner! They have a very smooth and creamy consistency allowing for a super easy application. Such a little amount of product certainly goes a long way. Some say they prefer to line their entire lips with the liner before applying the lipstick overtop for best colour pay off and long lasting wear. However in our experience we have used both with and without the lip liner and received the same results, so if it is only in your budge to purchase a single lipstick rather than kit, we would still recommend you purchase it 100%! These liquid lipsticks are not lying when they say they're matte and long lasting!!! They dry very quickly and do not smudge once applied, these products honestly last all day through drinking, eating, etc; you will come home that evening to wash your face and your lips will still be in tact, just the same as if you had just applied it! One suggestion for this particular formula is to always exfoliate, scrub, and moisturize your lips prior to application as these are super matte products and will emphasize any dry skin on your lips! Over all we would recommend these products to everyone, and if you haven't already purchased one to see what the "hype" is all about we encourage you do, you won't regret it!
Velvet Lip Kits
Similar to the matte Lip Kits, these come in the same packaging with a lip liner as well.  Once again the lip liner is not crucial in the final result, and can be worn without. This formula is more hydrating allowing for a healthy glow and soft to touch. The velvet Lip Kits are a touch thicker than the matte liquid lips and extremely creamy, you are able to seamlessly apply these shades effortless. The pigmentation of these Lip Kits are equal to those from the matte collection, just because these have a different finish it does not impact the product itself. The name could not be more fitting, as the perfect way to describe this formula is – velvety! You truly do not even realize you have this product on, it's super comfortable, soft, and wearable. Although the way it drys is different, it does not take away from the long lasting aspect of Kylie's products. This product lasts all day on your lips with little to no need to reapply – even through eating, drinking, or any typical daily actions! If you're looking for a Lip product that has the same qualities of a matte lipstick however do not particularly enjoy wearing or the look of them, these are your perfect alternative!! They are truly the soft and hydrating version, overall the velvets have taken the positive aspects of matte liquid lipsticks and traditional lipsticks to create this perfect blend – the best of both worlds! Overall this product is strongly recommended, once you try both the matte and velvet formulas, this may become your favourite and staple in your makeup routine!
KKW x Kylie Cosmetics Crème Liquid Lip Kits 
The collaboration between KKW x Kylie Cosmetics creating four newly formulated liquid lipsticks is Kylie's newest formula. With this particular collection you received all four liquid lipsticks in a bundle, with very wearable everyday colours ranging from nudes, pinks, and peaches. With the bundle you do not receive any lipliners, but as we said before personally they are not a crucial aspect of the over all product. These liquid lipsticks have the most differences between her first two formulations, these products are very thin in consistency – almost gloss like! The lipsticks apply very smoothly and are in no way shape or form a long wearing lip product. The pigmentation on the crème formula is not as vibrant as her other lipsticks as it is a glosser and sheer finish. In our experience, pairing one of these with a matte liquid lipstick provides a beautiful colour pay off with a longer wearing look! These lip kits are super wearable and easy to throw on as if it were a gloss, without a sticky or tacky feeling on your lips after the fact. Overall these are a very comfortable and effortless product with it's universal colour pallet you are able to make these products a staple in your everyday makeup routine!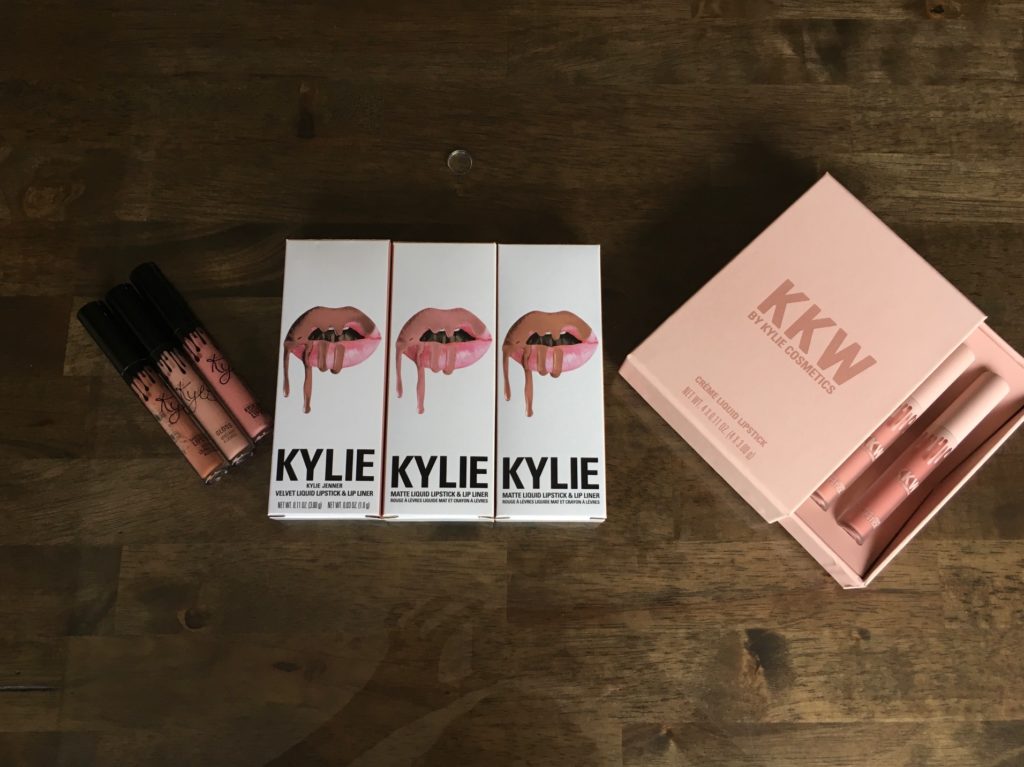 Swatches from left to right: Koko lip kit (matte), Charm lip kit (velvet), Kiki liquid lipstick (crème)