Hey everyone! We are so excited to share todays post with you guys. We have created a list of beach bag essentials we have with us at all times – whether at a pool or at the beach. Similar to our carry-on must haves post, we like to pack minimal but at the same ensure we have everything we need! It's the worst when you're comfortable laying out in the sun and realize you forgot something you need in your hotel room… or worse, at home! This is something you can pack once and just leave most of the toiletrie items in there all summer long to make sure your bag is ready for any time you will need it. Our long list of to-dos before the trip is slowly but surly being accomplished. This was a major one for us! We hope you guys are enjoying our trip/summer related posts! Here are our beach bag essentials: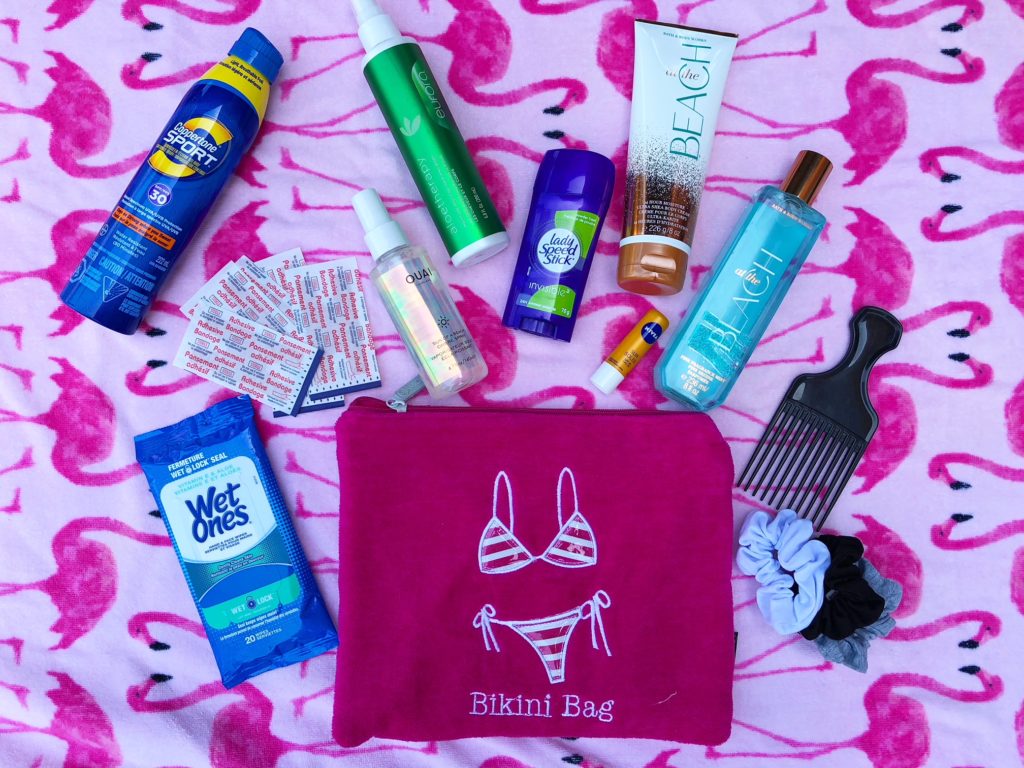 1. Lip balm
Lip balm is a no brainer, but lip balm with spf is SO important especially if you are basking in the sun for hours on end. We feel like people always remember to use sunscreen everywhere else but seem to forget to also protect your lips! Nothings worse than getting a sunburn somewhere like that! We typically like to use an inexpensive drugstore stick form Chapstick with spf – to just easily reapply constantly.
2. Sunscreen
Again, this list is filled with tons of products that are just second nature when you think of spending the day near the pool or at the beach. We sound like such moms, but its so important to apply sunscreen and apply it regularly. We love tans and tanning just as much as the next person, but it is really important to us to protect our skin from sun damage and of course wrinkles lol. Sometimes people skip using sunscreen but you will regret it down the road if you chose not to use it in your younger years.
3. Body oil
When we say body oil, we don't mean applying tanning oil (that is not good for your skin!). We're referring more to something more like the OUAI Rose Hair & Body Oil, it's a perfect hydrating product to use and apply to keep your skin looking healthy and refreshed. It's also nice to keep your hair hydrating while its out in the sun all day – minimizing damage!
4. Aloe
We are BIG fans of aloe, surprisingly it's something we use quite often. We love using natural and healthy products on our face and body's. There are so many benefits to using this, the obvious one is sunburns – even if you do not have a sun burn (hopefully not lol) you can still apply this to hydrate and cool down your skin. Sleeping with it overnight also diminishes your acne or any irritated spots on your skin that may come from the sun!
5. Aloe Spray
Similar to the pure aloe, we love using this aloe spray, by the brand Eufora Moisture mist for your hair and body. This is the perfect product that's easy to spray on at all times. This product helps sooth your skin after a day in the sun. It hydrates your hair and skin; and provides literally the best cooling sensation on your skin… if you purchase this, you'll literally be reapplying every 5 minutes (its addicting lol).
6. Deodorant
Obviously, this is a given, with being in the heat and sun all day you tend to get sweaty and always want to ensure you smell nice and fresh. Its super easy to just throw this in your bag and reapply anytime you need to.
7. Body spray
Body spray is a must for us!! We are big perfume lovers. Sometimes perfume scents are super strong and heavy for during the day, especially when poolside or on the beach. Our go too in the summer are body sprays. The scents are always so light, fresh, and wearable for daily use (and not to mention you can spray as much as you want and its never over doing it lol). Bath and Body works sprays are some of our favourites, they're super inexpensive and have the cutest summer packaging and pretty scents.
8. Wet naps
Wet naps are an essential, things can get super dirty – and real fast when sand is involved lol. As much as we love the beach, we hate being dirty (surprise surprise). So, these are a must for us to wipe our hands before eating, drinking, or touching our belongings lol. Nothings worse than walking out of the water and having all that dark brown/wet sand stuck to your feet!
9. Band-Aids
This might seem kind of random but we both literally carry Band-Aids with us wherever we go (multiple sizes and tons of them lol). These are super handy to have with you in case you ever get a blister or cut, or some unforeseen thing happens where you need one. Also, the people you're with might need one so it's always great to have them with you!
10. Kleenex
Definitely a multipurpose item for us! For obvious reasons, carrying Kleenex makes sense but it's also good for blotting your face when you get oily (happens to us all the time at the beach and just in general lol) instead of carrying around actual blotting papers.
11. Elastics / pick
Both of these are soo important! When we're at the beach, we always want our hair up so elastics are a must for us. A pick comb goes hand in hand with this because sometimes our hair can get tangled or a little ratty at the beach…. and it just feels good to comb it out! Also, you may be going somewhere after the beach and want to freshen up so carrying a comb is perfect to keep that mane in check!
12. Outfit
It seems like we always bring about 5 different outfits (we know…. so extra lol) but bringing non-beach clothes to change into after a long day is essential for us. Like we mentioned earlier, we hate feeling dirty so wearing sandy bathing suits/clothes home is a no from us!
13. Cover-up
We absolutely love coverups (although cute ones have been hard to come by recently)! They're perfect to throw on over a bathing suit or if you want to walk around the beach/area while feeling comfortable. Also, these tend to be loose and flowy so it makes putting them on so much easier than normal clothes.
14. Underwear / bra
We both always bring multiples or a change of everything so this is no exception. Obviously, these are essential for many reasons, but we personally feel so much better getting changed into dry clothes from a long day at the beach! Again, if you're going somewhere after, it's nice to have a fresh bra/underwear to change into!
15. Hat / bikini
We love hats at the beach to keep our scalp and face protected when being out in the sun all day. Also, they're great even if you want to take breaks in the sun and get some shade. We also love hats as an accessory piece to complete a look or take pics with (again…. extra lol)! Also, what's the beach without a bathing suit?! A bikini is a must for us because we like to tan and go swimming, so we need a bathing suit to make that happen for us!
16. Reading material
Let's face it…. sometimes the beach can be super relaxing but at times suuuper boring, especially if you just lay there for like 6 hours lol. Bringing a book, magazine, or some type of reading material (could be your phone or tablet) is great way to pass the time!