Hey everyone!! We are beyond excited to be writing the post today!!! We are going away to Mexico in the beginning of June and have tons of trip related posts for you guys. We have never gone on a trip together before and we're both SO excited – literally counting down the days. Ever since grade nine we have always wanted to go on a trip together, specifically Mexico… ironically almost seven years later, that's exactly where we are going. We are both hardcore planners with everything we do whether it be shopping or spending one night in the city – we always have a list made and nothing's changed for this lol. We have so many things to do before we go and needed to make lists of everything to ensure we don't forget anything. Our view is its always better to be over prepared than underprepared lol. We're trying really hard to not even pack light but just efficient (specifically with clothes….it really doesn't make sense to pack two plus outfits a day when we'll be living in bikinis lol?!) But its just who we are lol we can't help it. We came up with a list of must haves we need for our carryon's. Some things may be no brainers but its always better to write everything down to make sure you remember it. The worst thing is to forget something you use on a regular basis. We're brining larger purses as carryon's rather than a small luggage. These are our must haves: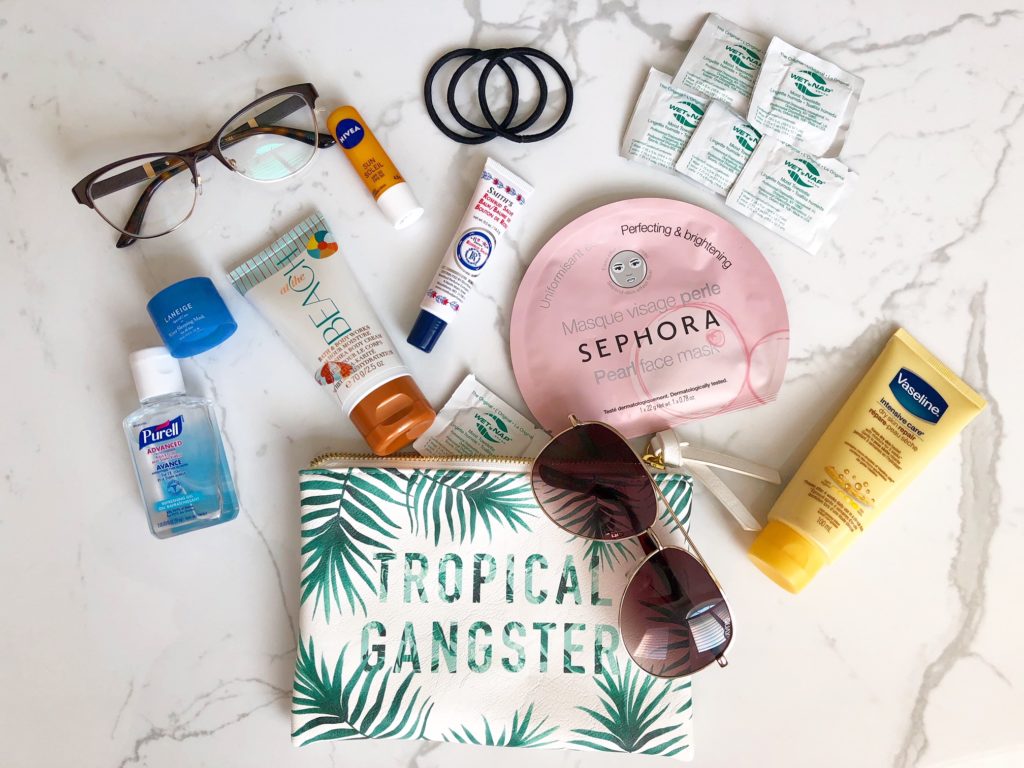 1. Hydrating skin care products/ sheet masks
The first thing we added to the list are hydrating skincare products. When you fly it really dehydrates your skin and really isn't the best for your skin. Sleeping with an overnight sleeping mask the night before is extremely beneficial as well. It is so easy to pack a sheet mask into your carry on – whether it be a full face or just an under-eye mask, anything makes a difference. They're super easy to throw on and you do not need to wipe the remaining excess product off your face once it's done, making it even that much easier. GLAMGLOW has a hydrating mask that is suggested to be applied right before your flight takes off. Our favourite sleeping mask for the night before is the Laneige Water Sleeping Mask. As for sheet masks we love to use and try any mask – but some of our favourites are the Sephora brand. Its something that is fun to do during (even if we'll look a little extra lol) and provides benefits to your skin. Once you've arrived to your destination you'll already have that tropical dewy look!
2. Hydrating lip product
This one is a no brainer. We are those people who are constantly applying some sort of lip product. It's important to remember to pack hydrating lip products and Chapstick's with you to ensure you have it and it will not get misplaced in transition. We like to bring both jelly formulation and the stick form, for verity and convenience. Its just an everyday essential that should not be forgotten!
3. Hand sanitizer/ wet naps
We're both slight germaphobe's lol, so this is a must have for us. We have hand sanitizer on us at all times and on vacations specifically we also bring wet naps. Especially on the airplane, you don't know how clean your area is – so its always important to wipe down the area you are sitting at (table, arm rests etc). Its also important to constantly clean your hands – think about all the things you've touched from the moment you stepped into the air port and sat in your seat (gross, right?!). We use it especially before we eat anything. (we know we sound like moms lol)
4. Makeup bag
We pack all of our makeup with us. Our makeup collection is like our babies – we cannot have anyone tossing it around in our luggage. With us holding it, it ensures its always with us and never lost. As well as always handled with care lol. The worst thing is having any liquids leak or powders break. It also forces us to pack pretty minimal with the liquid requirements. We always feel safer packing things like that with us to make sure nothing happens to it.
5. Hand cream
Like we said before, flying is very dehydrating. This prevents obviously dry hands and elbows. Small travel sized hand creams are an essential. We always bring one regular moisturizer and one fun scented one to remind us of a tropical vacation. A favourite is Beach by Bath and Body works… its literally incredible and smells just like sunscreen.
6. Hair elastics
These are sooo important, they're small but crucial. You literally never know when you'll want to just throw your hair up so having them at easy reach is best – and you'll make sure not to misplace them.
7. Sun glasses / regular glasses
Depending on what time your flight is, you may not be needing them when you leave the house because it's still dark out but will definitely be needing them once you reach your destination. Nothings worse then not having sunglasses when you really need them. These are also good to have to ensure they do not break in the luggage.
8. Hat
Depending on the hat, you should wear it to the air port to prevent it getting damaged or bent in the luggage. The big floppy beach hats can be packed safely and stuffed with things to keep its shape. But fedora beach hats will come out with a distorted shape (we know from experience).
9. Socks
Regardless of your footwear, socks are such a staple in your carryon bag. The plane can sometimes be chilly (especially when going to a hot destination and AC cranked) so packing these with you is for those "just in case" moments! Also, you may find yourself having to walk on the floor of the airport (through security) and if you're a germaphobe like both of us (as we mentioned earlier) then this is another good reason to bring them.
10. Sweater/ jacket
Similar to the socks, a sweater/jacket is one of those staple pieces in your carryon when traveling because you never know the temperature of the airport or plane, and although you're traveling to a warm weather destination, it's still always great to have that extra layer with you incase you need it!
11. Bikini
You might be thinking "bathing suit, in a carryon?!". We pack a bikini because it's super light and doesn't take much room/can be folded any which way and when traveling somewhere hot, it's a good way to ensure that you have one of the most basic necessities of a vacation with you lol!
12. Eye mask
This is another essential for a few reasons. If you're a sleeper on planes, then this is definitely a must! Sometimes it's hard to block things out and bringing an eye mask will help you to sleep better (it does for us lol). Also, even if you don't sleep on the plane, depending on your seat location (aisle, middle, window) it can be difficult to relax or listen to music without being distracted by things around you. An eye mask is the perfect solution for this! Or, you might be stuck in the middle with someone who has the window fully open for the whole plane ride…. in that case…. you'll definitely need the mask lol.
13. Headphones
One of the most important essentials like…. ever!!! Sometimes plane rides can be long or boring, or sometimes you just don't feel like talking with anyone. Music is a great way to pass the time so headphones are super important. Also, they help block out talking if you're feeling extra sleepy and want to catch some zzz's! And let's get real…. no one likes those headphones they give on the planes anyways (so uncomfortable) lol!
14. Wallet
This is essential and a crucial item for obvious reasons. It's so important to make sure you have all of your ID's and money that you plan on taking with you. Also, because of the nature of your wallet and what it contains, you should have it with you at all times. The good thing is that most people carry this with them on a daily basis so it doesn't change much from our normal routines.
15. Passport/ boarding pass/ important documents
Again, this one is super important (for obvious reasons lol)! If you don't have your passport, boarding pass, and other required documentation…. you won't be traveling anywhere lol! Again, these are things that you frequently use and are a must in your carry-on.
16. Gum/mints
Okay so we both always have those moments where you're just craving something and need a "snack" like a piece of gum or a mint (even though it's not actually a snack lol) or something to change the taste in your mouth. Also, gum and mints are good for the plane ride to help with the pressure in your ears (they are a MUST for both of us lol) and can really help make the plane ride a more enjoyable experience.
17. Expensive belongings
So by expensive belongings, we mean things like jewelry, small handbags, and other things that are valuable enough to keep with you. For us personally when we travel, we like to bring valuables physically with us on the plane to avoid them being damaged or anything happening to them through travel. We both just feel so much better knowing that these items are safe and with us at all times! However, when traveling in general, we both like to keep this stuff to a minimum if we can, just because neither of us feel like lugging too much stuff with us if we don't need to. We try to only bring the necessities that are easiest to pack/travel with.
18. Phone charger
If you're like us, then you're either on your phone or it's always with you. Making sure you have your phone charger with you is important, especially if you're in airports and on planes for a good amount of time.