Hey everyone! We're so excited for todays post! We wanted to share our favourite sunless sun kissed essentials to achieve that all over glow without damaging your skin from the sun! Plus, who really has time to lay out for hours on end anyways lol?! If you guys are anything like us… we literally are bored within minutes and need to be doing something! Most of these products are used year-round for us but especially in the summer we tend to gravitate them 24/7! Something we love is to look glowy, dewy, and bronzed! We're extremely minimal when it comes to make up in the summer time – literally minimal to none some days lol! The least amount of effort required is really our motto lol. We are going to film a current summer makeup look video on our YouTube channel soon, so stay tuned for that. If you guys ever have any requests or enjoy beauty posts please leave a comment and we'd love to do more! Scroll down for products and details!
Cover FX – Custom Enhance Drops
Omg so this product has been a favourite for a few months now! Pictured are four of the eight shades available. This product has soo many different purposes and can be used in many different ways. We have three favourite ways we like to use it. First, you can apply them on your bare skin after primer on all the areas you would typically highlight with powders. Doing this creates such a beautiful glow from within. After applying your foundation and powdered highlights over top it literally looks so beautiful. Building highlights always looks so flawless and just amplifies your whole look. Another favourite method is applying it right onto your skin with no other makeup, its such a nice natural look – literally the perfect no makeup makeup look for the summer time. Some people also love to mix a drop into your foundation for an all over dewy look. From our personal experience naturally the darker our skin tone is at that time the darker shade we will use. However, every shade does look nice one the skin so you can totally play around with different shades and not just purchase the one that best "matches" your skin tone.
Shimmering Body Oil
Unfortunately, this exact product has been discontinued but there are so many other products on the market that do the exact same thing! Some of the newer products out there are MOROCCANOIL Shimmering Body Oil, BECCA X Chrissy Teigen Glow Body Oil, and Herbivore Rose Quartz Illuminating Body Oil. So now onto the actual product itself… if you love how Jlo's skin actually looks incredible, glowing, illuminated and perfect at all times?! Well these can help all the non Jlo's try and achieve that look. They're light weight that you just massage directly onto the skin. You'll be left with an all even glow and shimmer on the skin. It provides the perfect sun kissed glow without all the hard work involved! Also, when applying products like this help blur or minimize the look of any imperfections on the legs such as bumps etc. This is perfect for events or nights out in the city!
BECCA – Gradient Sunlit Bronzer
This is a product that we have been loving this summer!!! It is a powder bronzer that has highlight mixed in with the formula and consistency, to give that bronzy/healthy skin glow! It's also great because it is a gradient of colours, meaning that there are several ones mixed in to create a natural looking colour to suit several skin tones (great for summer/tans and for lighter complexions in the different seasons). If you know us, it's no secret that we both adore Becca Cosmetics, especially their highlighters, so having a bronzer with highlight mixed in one product sounds like a dream to us lol. A tip we like to use is to layer products (as you can tell my the theme of this post). So, using this product in conjunction with something like the Chanel Soliel Tan De Chanel (which we talk about right after), literally gives the most sun kissed, glowing skin ever!
This has seriously been a staple for YEARS…. like legit since our early high school days (grade 10, 2013 to be exact lol). Essentially, this is a bronzer that has a different consistency than regular powder or creams. It has a very light, gel/cream like consistency that's kind go hard to explain lol but it's something that when used, instantly bronzes up the skin beautifully! It's so easy to work with and looks so natural, giving that effortless sun kissed glow without looking muddy or caked on (it literally just looks like your skin)! The great thing about this is that it looks amazing on its own for this natural no-makeup days but when you still want some colour and dimension, but it also layers beautifully under or on top of foundation and blends like a dream! This is definitely a pricer product but we both swear by it and it literally lasts forever!!!
St Tropez – Classic Bronzing Mouse
Okay so, we are literally obsessed with sunless/fake tanner! And this is also our biggest tip to looking suntanned and healthy without working for it lol. If you don't know what this is, it's essentially a product that your put all over your skin, let it sit for a while (typically hours or overnight but depends on the formula), you shower, and BAM- you're instantly a bronzed/tanned/glowing goddess!!! There's a ton of different formulas (like liquids, mousse, etc.) and develop times (can range from express tanners that take 2 hours to develop colour vs. 6-8 hours). This product specifically is a foaming mouse formula that you use a mitt to apply (St. Tropez sells them to make it easy) and you use it to put the product on the glove and then spread all over the skin. This takes 6-8 hours to develop colour so we use it overnight and then rinse in the morning. This is honestly been tried and true for us- we both love the formula and it's the quickest way to get that stunning sun kissed look while keeping your skin healthy and safe!
Scroll down to see photos of all the products we mentioned!
CoverFX Custom Enhance Drops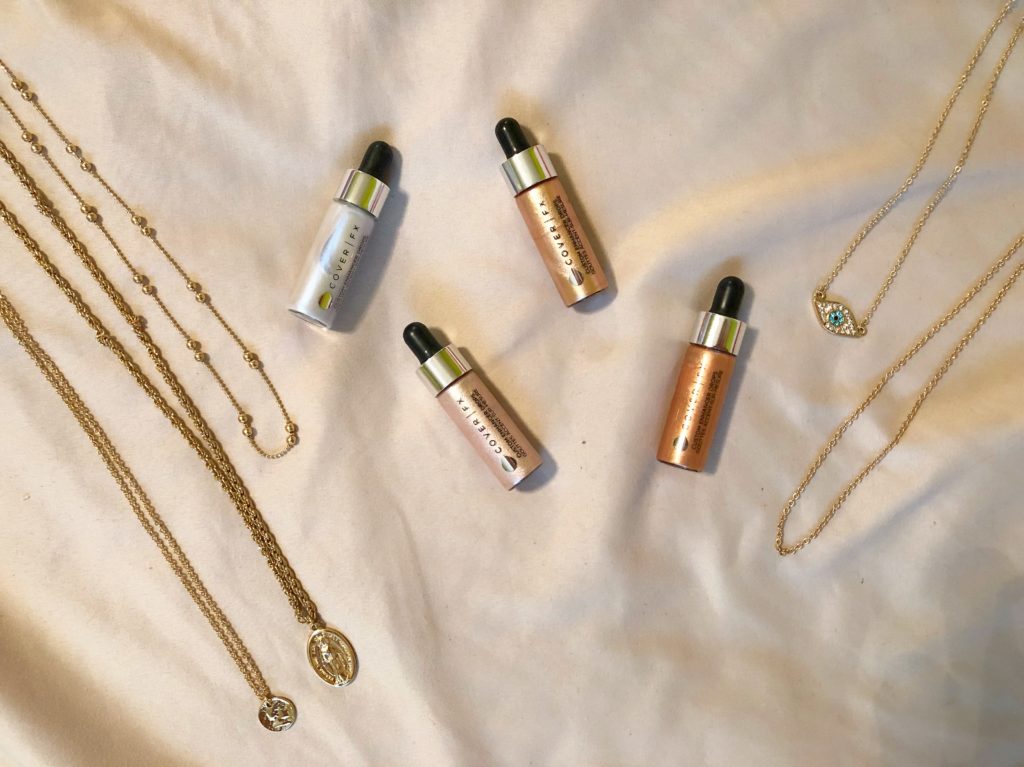 Shimmering Body Oil (Lise Watier)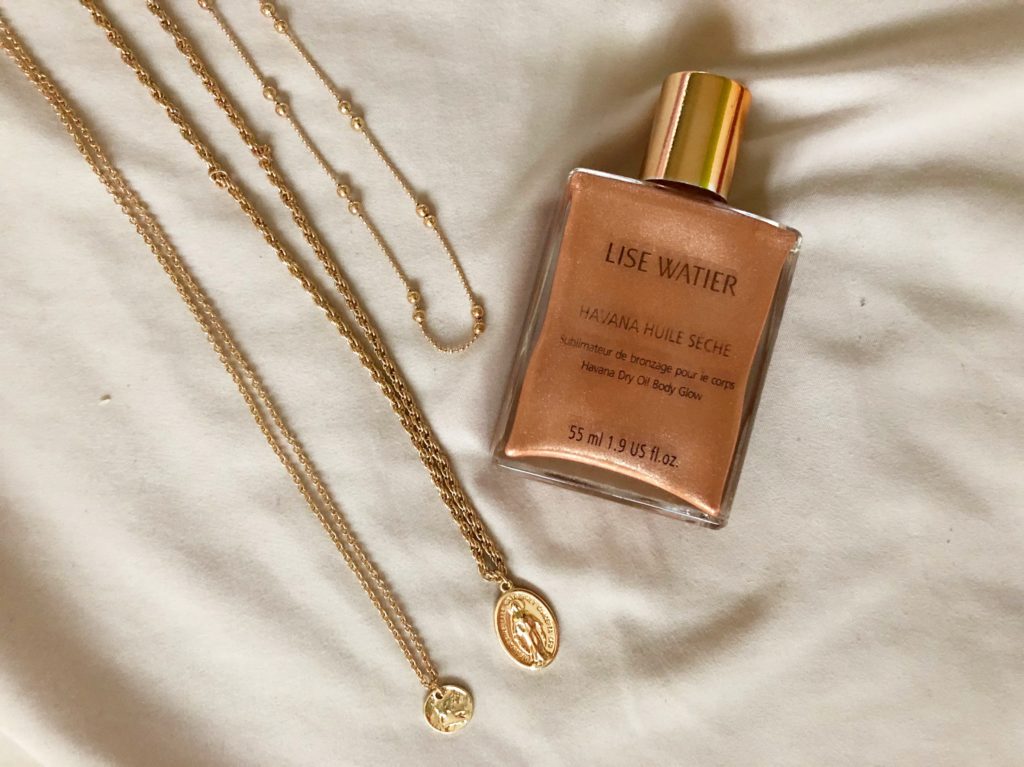 BECCA Gradient Sunlit Bronzer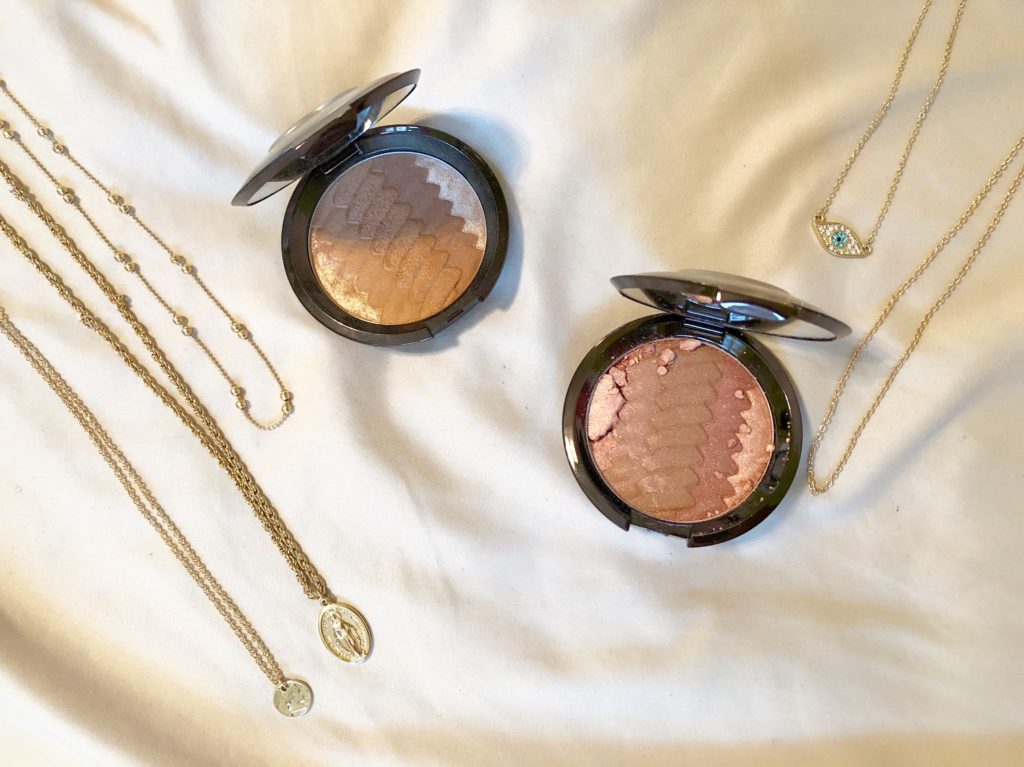 Chanel Soleil Tan De Chanel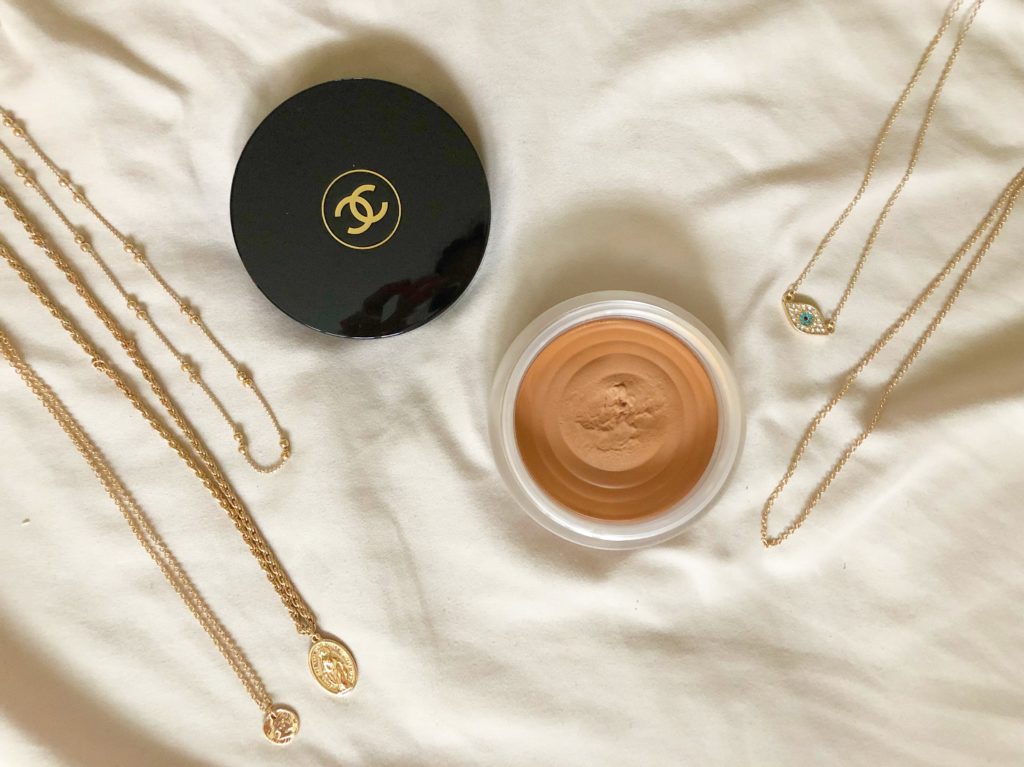 St. Tropez Classic Bronzing Mousse