Hey everyone!! We hope you all had an incredible Christmas! It's so hard to believe 2017 has already come to an end! We feel like we say this every single year- but this year truly has been on of that fastest years of our lives! Today we are sharing our top 17 favourite products and items from 2017! Some of these items we have newly discovered and loved throughout the year, and others are our holy grail products that we use from year yo year! We hope you all enjoy our first post of the year!
1. Tarte Shape Tape Concealer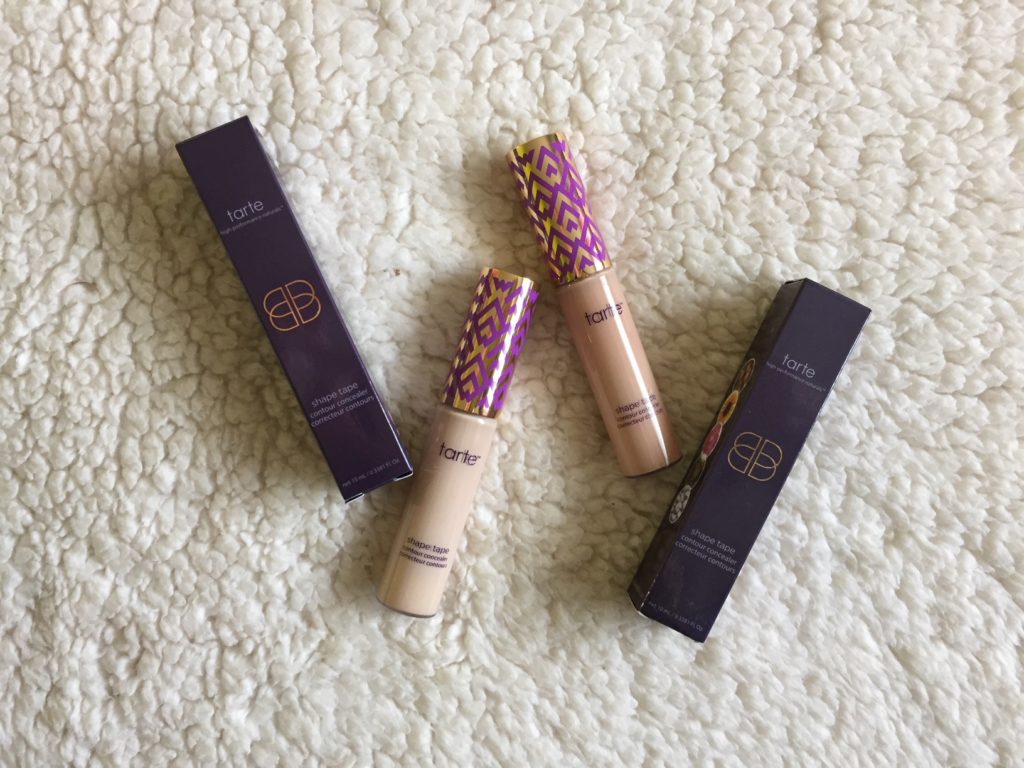 This product is seriously amazing and 100% worth the hype! We both have been wanting to try this product for a very long time and were finally able to get our hands on it. Unfortunately, this product is not carried in Canada and extremely hard to get ahold of online, so if you ever get the opportunity to purchase it we recommend you do. after using this product, you will understand why people describe it as creamy and buttery! It is literally the perfect consistency- it's super full coverage but wearable and blendable all at the same time. We used to exclusively use Mac Pro Longwear Concealer for many years and loved it, however we found it to be a tad cakey and thick at times. We also use Urban Decay Naked Concealer and love how lightweight and wearable it is, even though the coverage is much lighter than what we were used to. This concealer combines all the positive aspects from both the Mac pro longwear and the Urban Decay naked; creating a perfect product. We fell in love with this product after our first use and have no found our holy grail concealer!
CONCEALER: here |
2. Dior Airflash Foundation
This product is amazing!!! It is a little more on the pricier side, however it is so incredible and worth every penny. We have used and loved this product for many years now but we began to use it more on a regular basis again this year (we were really into full coverage/flawless skin as always lol, but wanted a lighter overall foundation for everyday wear). This foundation is very buildable and full coverage, it leaves your skin looking natural yet flawless- which is perfect for everyday use! It's super easy to apply- you can spray directly on your face (which does waste more product) or simply spray it onto a foundation brush and apply it that way! It leaves your skin looking fresh and airbrushed because it is so lightweight and does not settle into any lines or imperfections on your skin!
FOUNDATION: here |
3. Smashbox Primer Water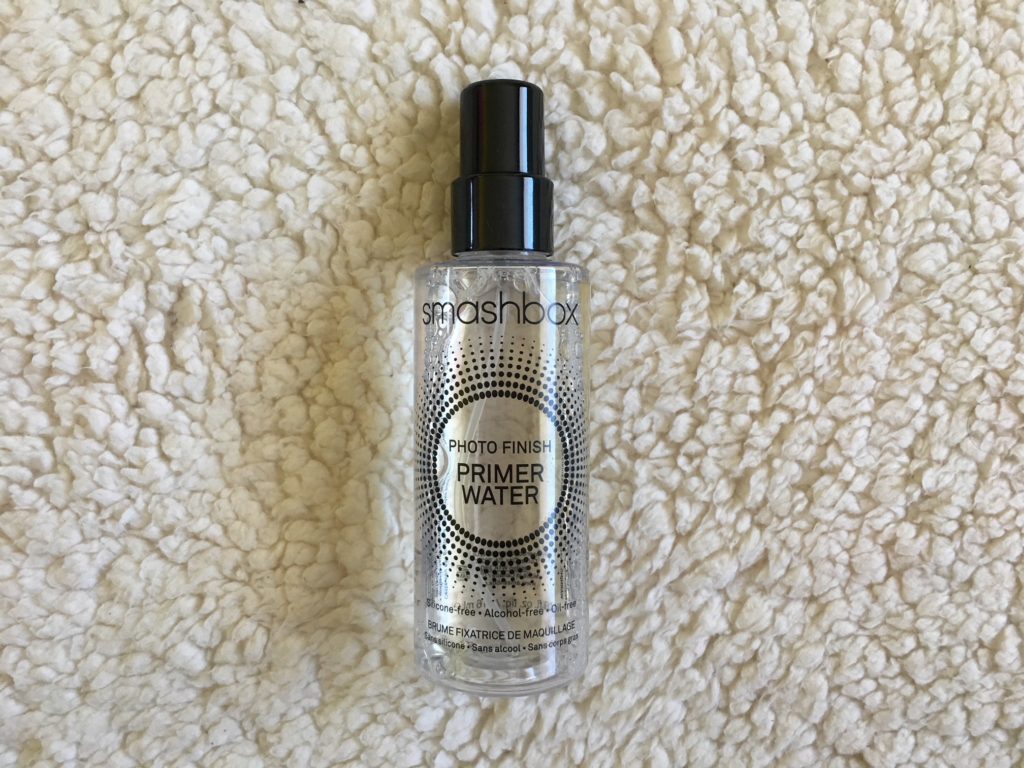 This is seriously such an amazing product that we've used consistently over this past year! It is a three-in-one spray that primes, sets, and finishes your makeup while also hydrating and refreshing your skin. It is good for all skin types and helps with any dryness your skin may be experiencing. We both use generous amounts of it before we do our makeup, and it absorbs into the skin super quick! It creates a nice hydrated base, making sure that makeup goes on smoothly and blends out well! This is such a staple in both of our makeup routines and we honestly can't picture them without it!
PRIMER WATER: here |
4. Becca Highlighter in Champagne Pop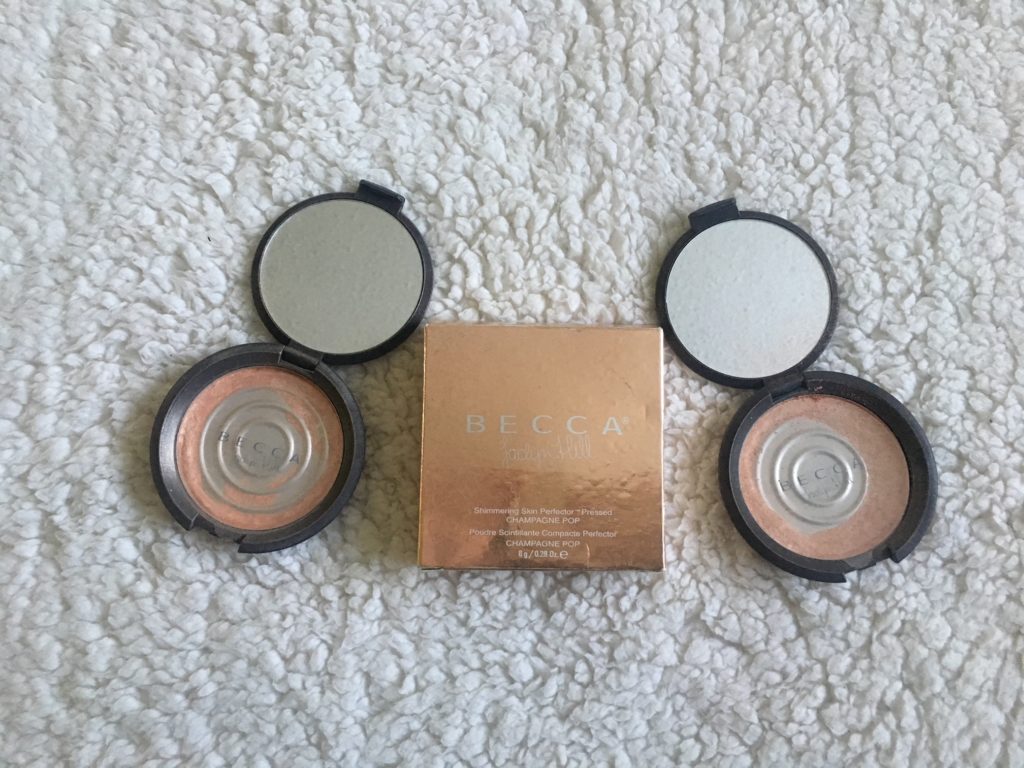 Judging by the picture above, it's no secret that we clearly LOVE this highlight lol!!! Like we said earlier, we are huge Jaclyn Hill fans and literally love anything that she puts her name on, because we just know it's perfect! Becca in themselves makes some of the best highlighting products with great shade ranges and formulas for different uses, and this highlight is nothing short of perfect! It is so creamy and buttery- it literally glides onto the skin and provides the best glow ever (and who doesn't love glowy skin)!!! It works for many different skin tones because of its mixture of white gold and peachy pink undertones (combining cool and warm colours) and gives the most stunning golden highlight! It is the perfect shimmer on the skin with no chunky glitter that some other highlighters have. Also, this product has lasted us forever (even with using it ALL the time)! If you're looking for that perfect highlight, then this is most definitely it!
HIGHLIGHT: here |
5. Liquid Lipsticks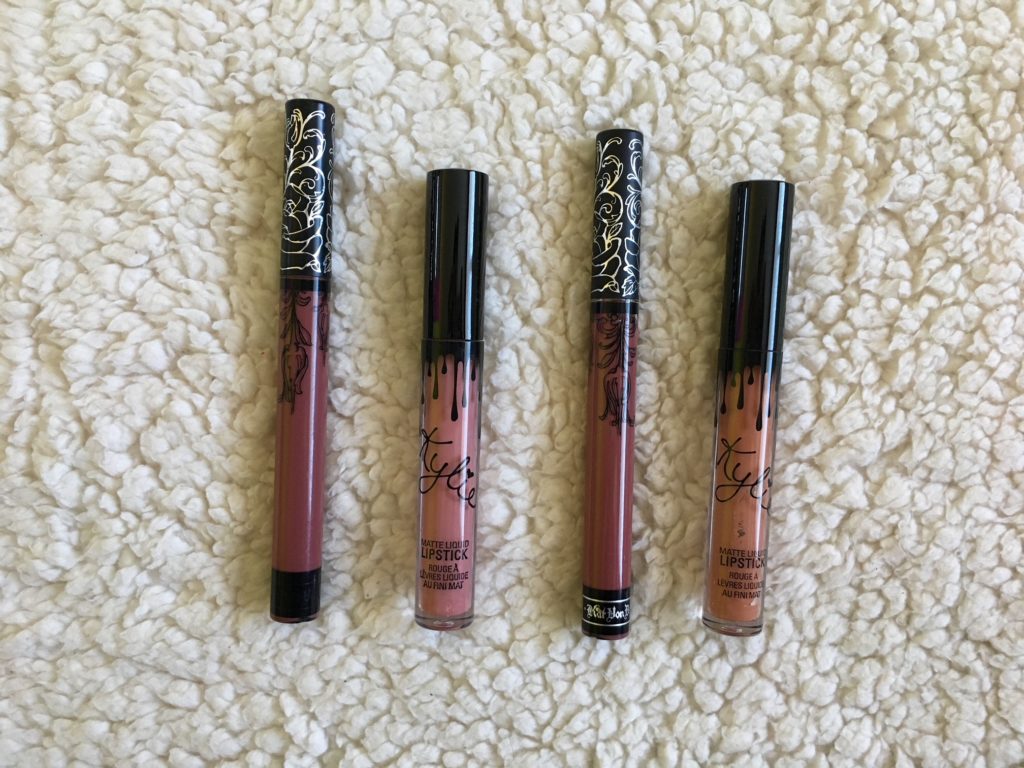 Okay so we absolutely love liquid lipsticks (you guys know this), and the Kat Von D and Kylie Cosmetics are some of our favs/most used ever! Liquid lipsticks are perfect if you want a lip colour to last all day without reapplying, and that's exactly what these do! There are so many shades and formulas to pick from and tons of different brands too, which is always exciting if you're a makeup lover or just looking for the best ones that suit your needs. The best part about liquid lipsticks is that you can wear them without a lip liner, they are smudge-proof, they don't need reapplication, and they last all day! Also, if you're not into the matte lip look, many brands have come out with different formulas that provide liquid lips without the matte look! Liquid lipsticks are honestly the perfect one and done lip product and we highly recommend you try them out if you haven't yet!
LIQUID LIPSTICKS (Kat Von D): here | (Kylie Cosmetics): here |
6. Jaclyn Hill x Morphe Palette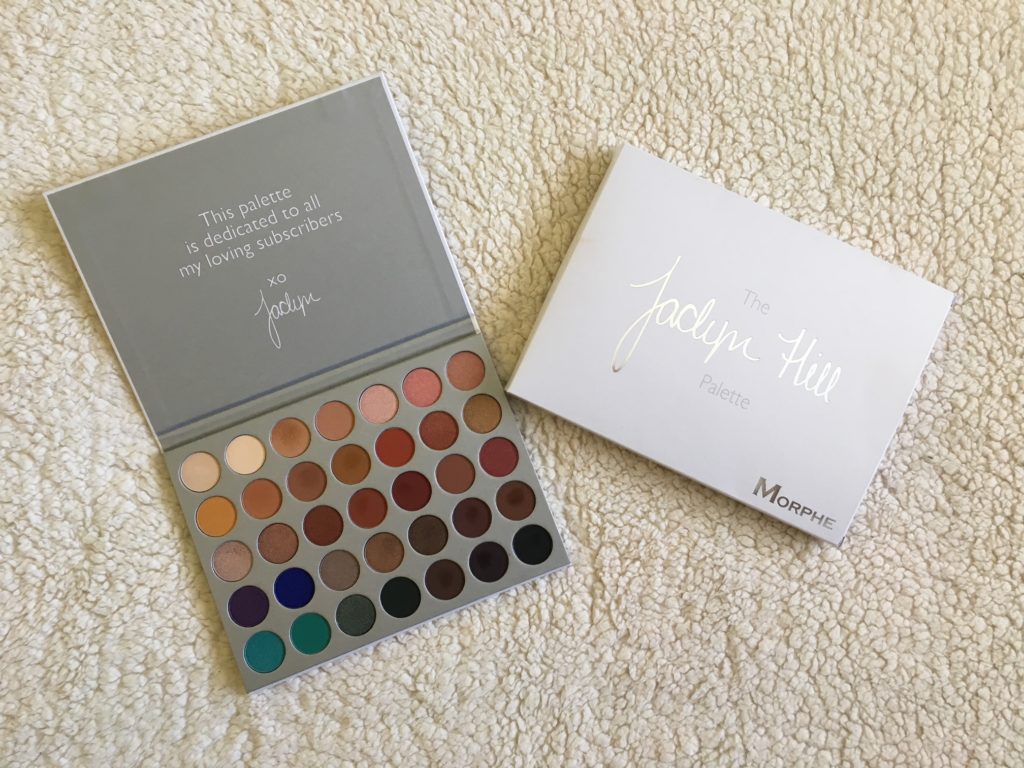 Of course, we had to add the one and only Jaclyn Hill palette!! We were SO excited that we were able to get our hands on some palettes the day they launched, we were literally sitting at the computer just constantly refreshing it lol. We are huge fans of Jaclyn and have been following her for what feels like so many years now. We knew that anything she was involved with would be nothing shy of perfection… and we were not wrong! This palette is just incredible, it has such a large range of colours, allowing you to achieve literally any look you could ever want! We always tell everyone that if they had to purchase and own only one palette, it should be this one!! These shadows are so creamy, buttery, and blendable! The pigmentation in these shadows are the best we've ever seen or used in any palette. The colour is just amazing, she truly did not forget a single detail when creating this palette and it's super affordable and worth every penny!
PALETTE: here |
7. It's a 10 Miracle Leave-in Product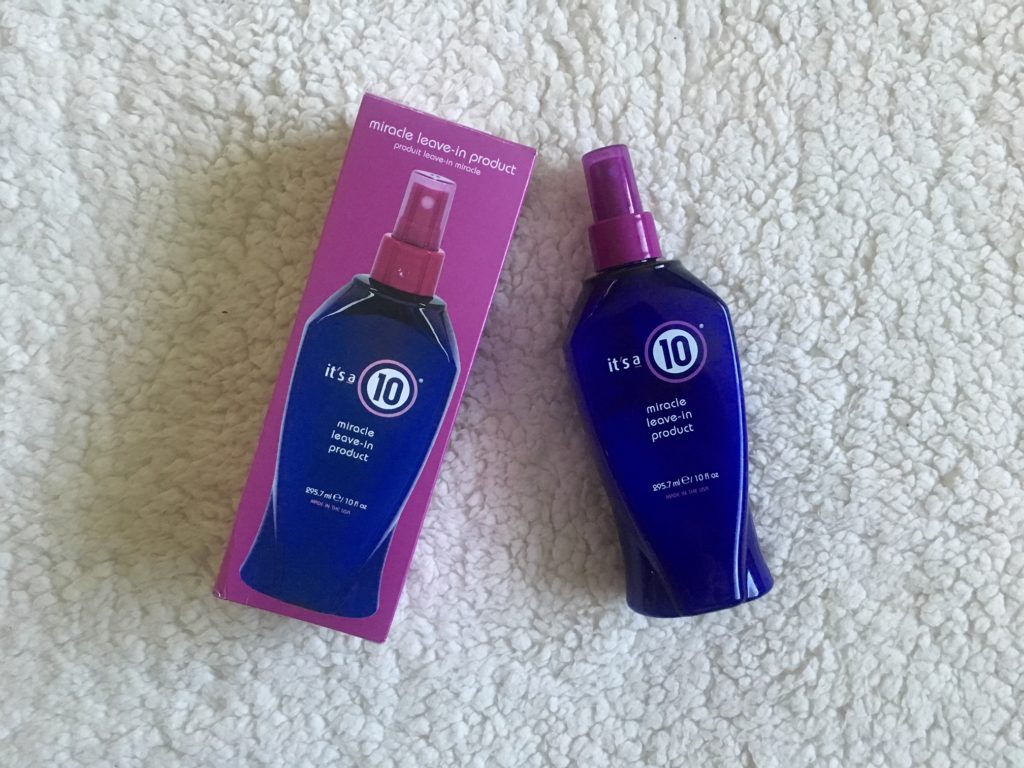 This is a product that we discovered literally years ago (probably 2013) and has been a love since then! It has 10 benefits for your hair that includes repairing damaged hair, adds shine, smooths and controls frizz, is a heat protectant and SO much more and it can be used on wet or dry hair! It is such a versatile product that offers so many benefits and a little really does go a long way! It is good to use on different hair types (textures and colours), lasts a long time (good product size), is affordable, and not to mention smells amazing!!! And, not only has it been used by stylists on our hair in the past, but they actually have recommended it and said it's a favourite of theirs too! If you're looking for a no-fuss hair product that acts as an all-in-one, then we would definitely suggest you try this!
IT'S A 10 MIRACLE LEAVE-IN: here |
8. Paco Rabanne Lady Million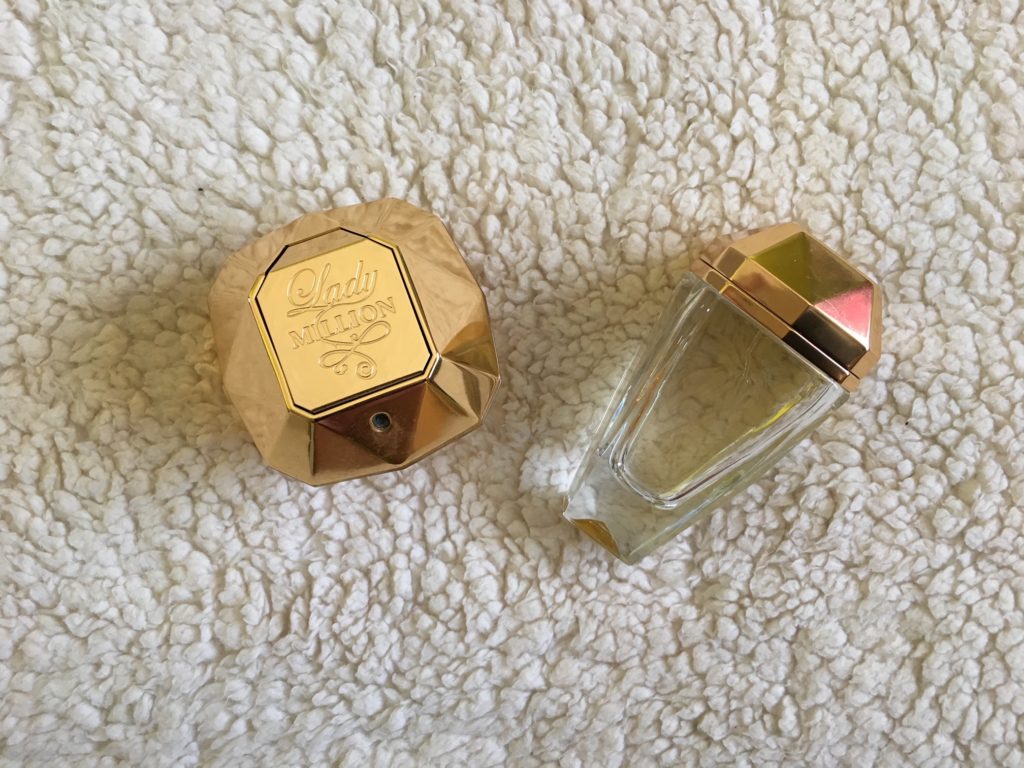 We are both perfume junkies and literally love so many different scents and brands, but this by far has been both of our favourites! Paco Rabanne Lady Million is such a classic scent that is feminine with hints of floral (but not to the point where it's overpowering) and also has a sweetness to it! It is a scent that seems heavy but light all at the same time, making it literally perfect to wear all year round. We know perfumes react differently to all skin types, but we both love and wear this (as well as other people we know) and it is one that doesn't seem to disappoint anyone! If you're looking for a new perfume or just something different to try, we definitely recommend this!
PERFUME: here |
9. Winter Hats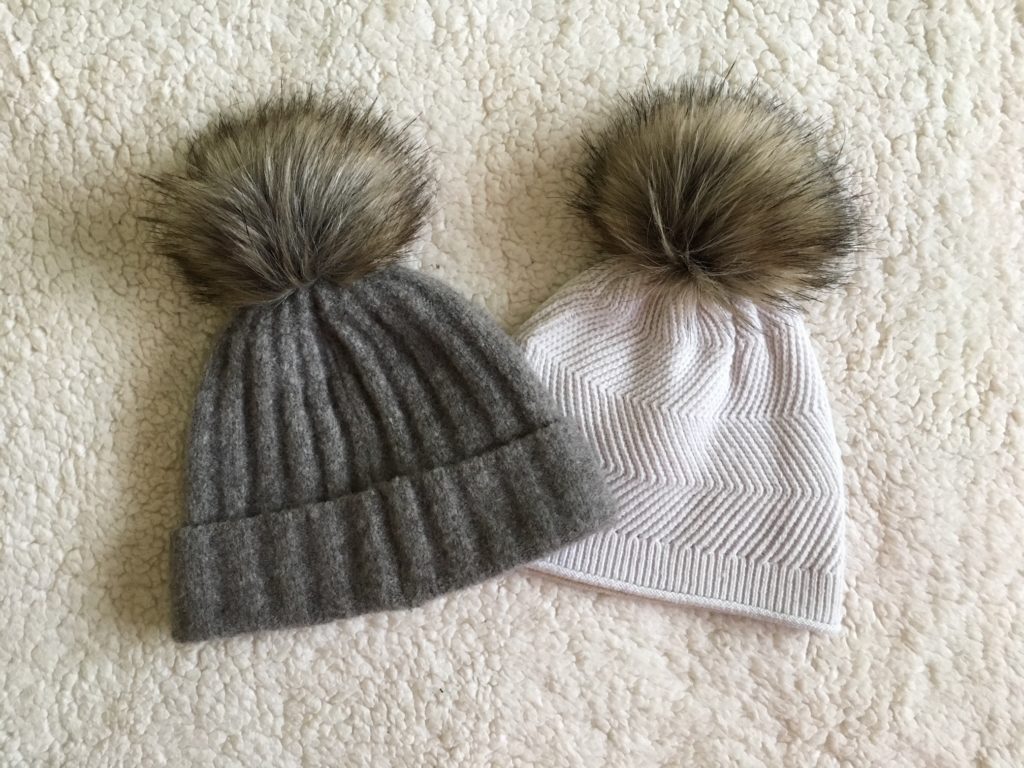 We have been obsessed with this trend for two winter seasons now! These hats are just the cutest things we've ever seen, they instantly elevate and complete any look! Whether you are wearing sweats and a hoodie or cute booties and a knit sweater, they look so nice! These things have literally been a lifesaver for us… on those early and cold school mornings when we really did not want to wash our hair- we would (and do lol) just throw these on! They are such a great piece to own, you truly don't realize how much you will use and need them until you purchase one!
10. TNA Windbreaker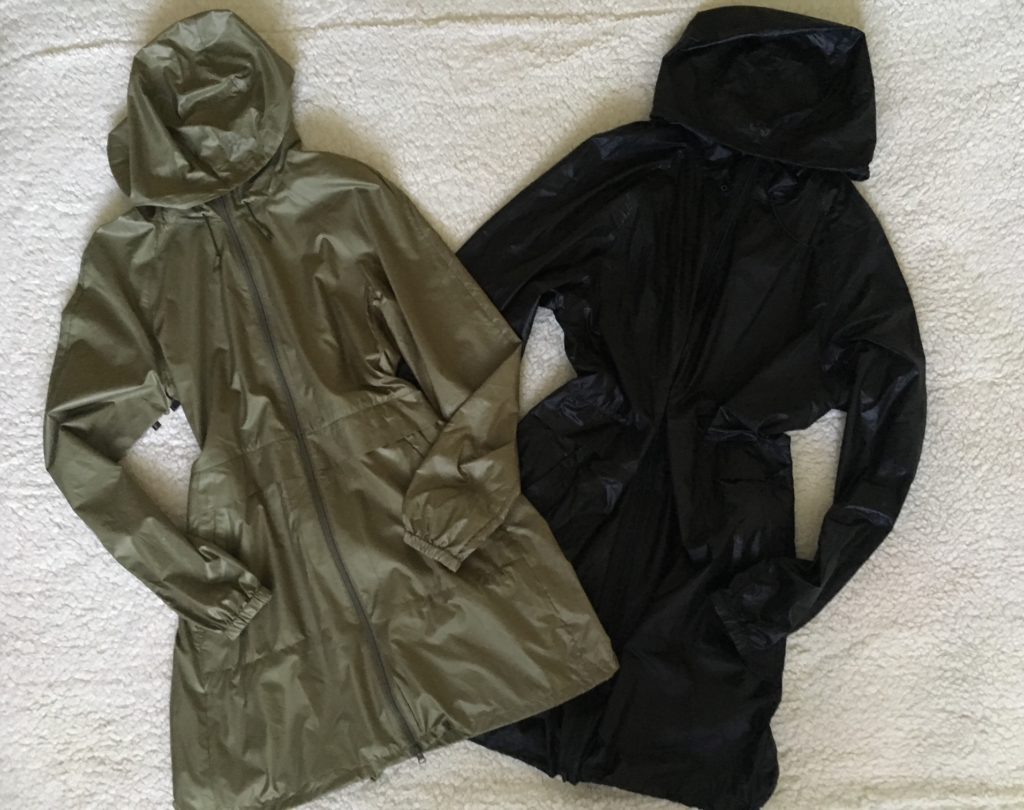 These jackets are literally the best! They have been worn by us like crazy this past year and are such a staple because they're so versatile and good for so many things. Windbreakers in general are great because of their material- these specifically are waterproof so they are always good to wear in the rain. They also make an outfit look better (jackets can do a lot for an outfit so finding the right one is key) and they are super lightweight. That being said, these types of jackets don't provide much warmth so we always make sure to bundle up underneath if need be, but that's why these are so great because they can be worn in so many different weather conditions and are great for layering!
JACKET: here |
11. Hoodies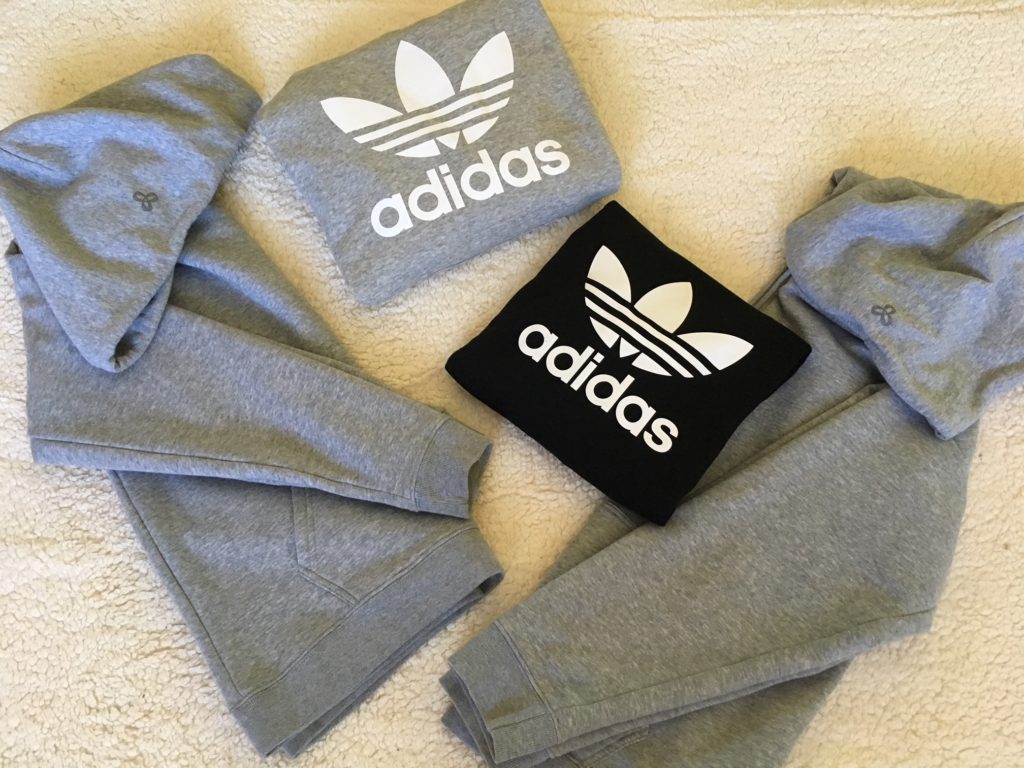 Okay seriously we LIVE in hoodies (not joking we literally wear these 24/7)!!! Oversized sweaters in general are just the comfiest things ever, but go so well with leggings or when you just feel like dressing comfy. These ones in particular (TNA and Adidas) are so soft are also perfect to pair with bomber jackets, windbreakers, to wear around the house, or even to dress down a more put together outfit (and go for that effortless vibe)! Whichever way you wear them, we think these should be a staple in everyone's wardrobe and having a couple different style and colour variations is always great!
HOODIES (TNA): here | (Adidas): here |
12. Turtlenecks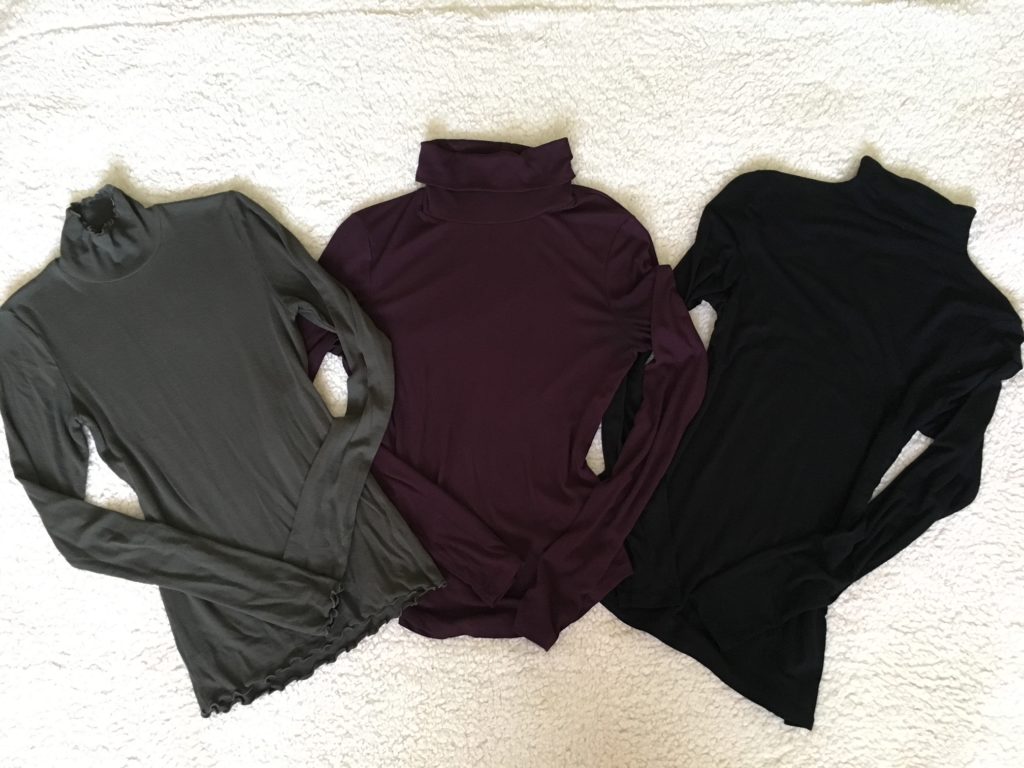 This may seem super basic, but over the last year we both have been in love with thinner turtlenecks. We went through a huge chunky knit phase (and still love them so much!) but wanted something a little different. These are so warm and cute, they're such a staple in your wardrobe, it's so easy to just throw them on and appear as though you have a really cute outfit! They totally transform an outfit and are perfect for layering with thick scarves, jackets, or cardigans. We love tucking them into denim or dress pants, you can even wear them more casually with leggings (which is something we love lol)! Turtlenecks like these are so flattering and easy to wear, they're so simple but really complete a look. We love owning them in many different colours and styles to switch up our look and outfits. When we both originally bought our first turtleneck like these, we were wearing them way too oftener and had to go a purchase a couple more lol!
TURTLENECKS: here | here | here |
13. PJ Sets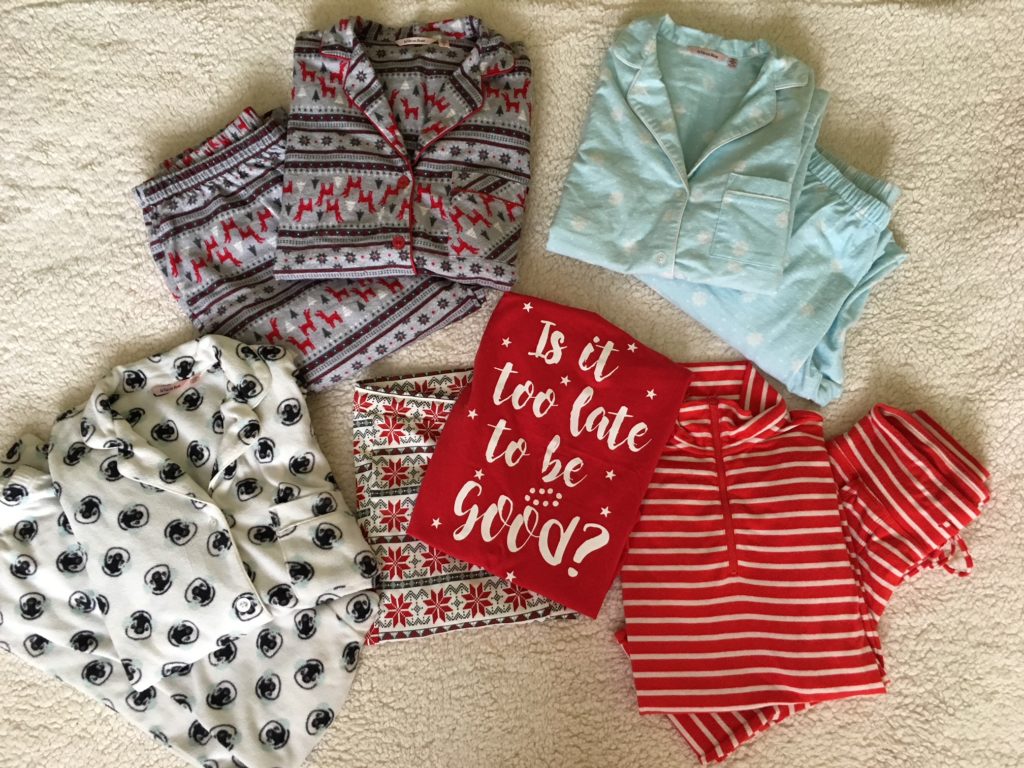 From our previous posts, we're sure you guys all know that we literally LOVE PJS (lol)!!! In saying that, we obviously love any and ALL pjs but we can't help ourselves when it comes to the matching or coordinating sets! These have been a staple for us the past year because 1) we live in them (lol) and 2) they're just so cute!!! Something about pj sets makes us feel like we have it together (haha) and we literally can't resist a new cute pair (like really we have to stop each other all the time from buying more). Also, they are so great because there are so many seasonal ones, and there's always different variations of pants and shorts or long and short sleeves- so you're sure to find styles that you like! Also, it's nice that they're kind of a one stop shop since you don't have to buy separate pieces!
PJ SETS (La Vie en Rose): here | (Aerie): here |
14. Shiny Leggings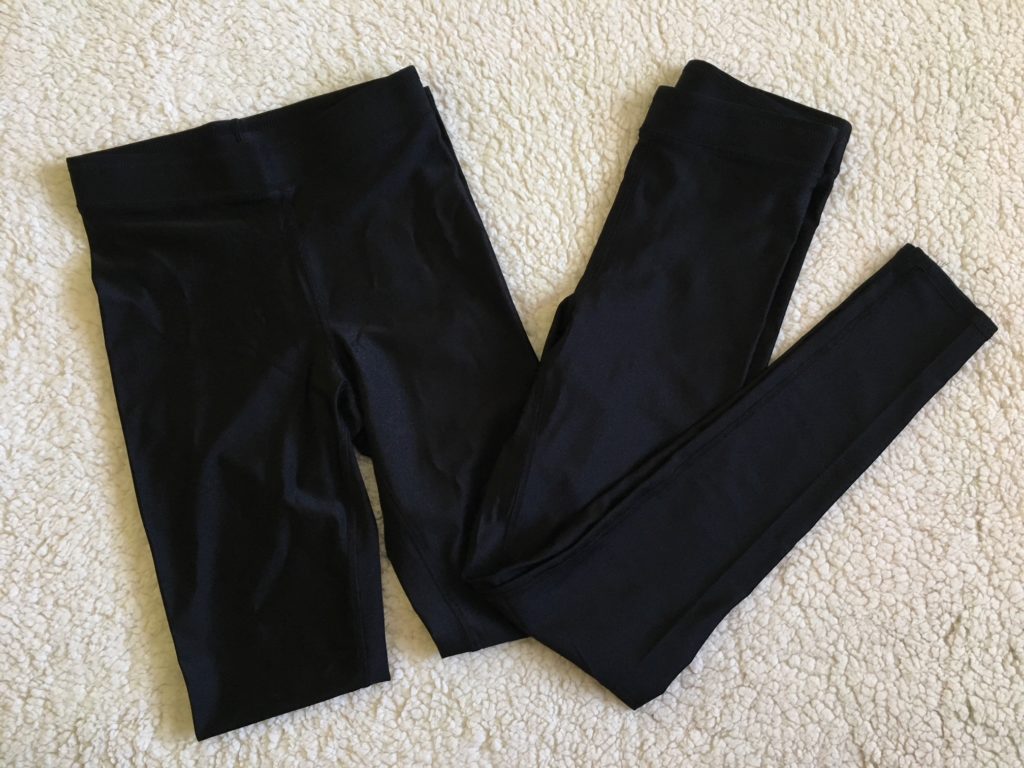 Okay guys this is literally so random, but one of our most beloved items in our wardrobes lol!!! These leggings are from a store named Garage, they are inexpensive and some of the best leggings we've ever owned. The material is so nice, they're so soft and silky lol! They are high waisted which is something we love about them and they come in a variety of lengths so they will fit every height perfectly. They just suck you in, in all the right places, are super flattering and obviously so comfortable! You can wear these super casually but can also get away with wearing them as an actual outfit- no one would ever know the difference. Especially in high school we LIVED in these things… we are not even joking, we went a solid 6 months without wearing jeans (not our proudest moment lol)!! If you do not own them, you should really go purchase a pair right now, we promise you will not regret it!
LEGGINGS: here |
15. Running Shoes
We are OBSESSED with running shoes and never thought we'd love them as much as we do or get as much use out of them this past year than we have. Neither of us have ever been athletic or sporty, and therefore never thought we needed running shoes (we know…. shocking lol). But we eventually decided that we needed them for cute athletic looks (and the gym) and we have been obsessed ever since! We are Adidas girls through and through but we do love Nike as well, and these shoes are the most comfortable and cutest ever! Everyone needs a good pair of runners for those days when you just feel like dressing comfy but don't know what shoes to wear or pairing them with a really nice outfit and dressing it down with the running shoes. They are honestly SO versatile and that's exactly why we love them!
RUNNING SHOES (Adidas): here | (Adidas): here | (Nike): here |
16. Steve Madden Slides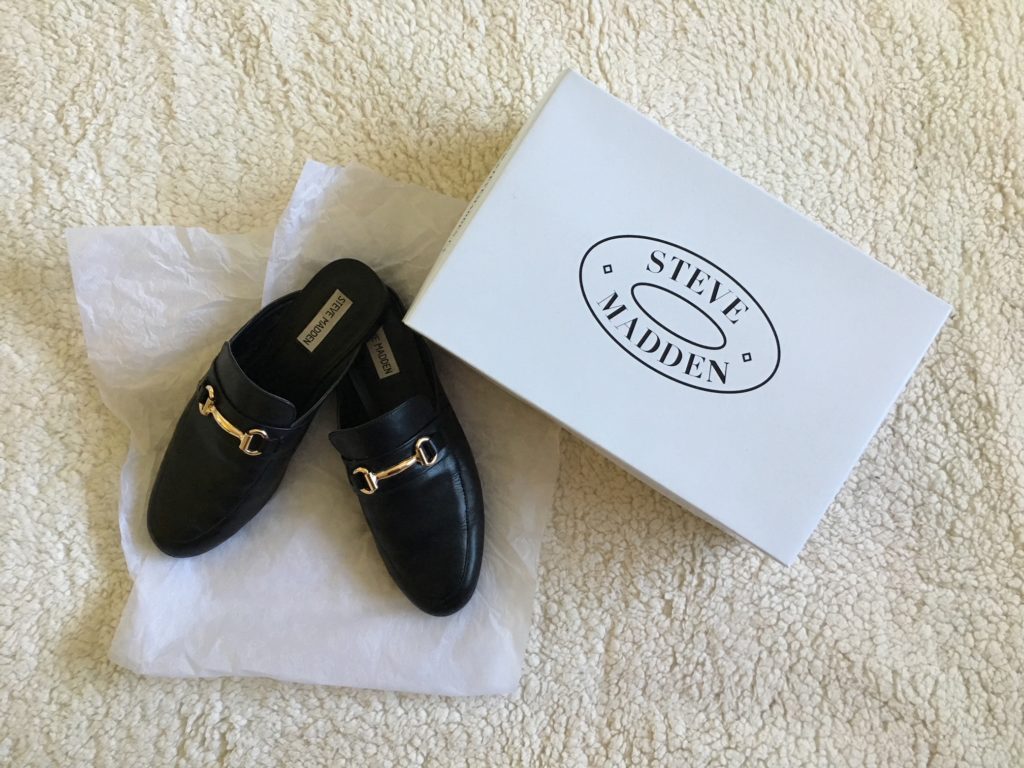 As you guys can probably tell from our outfit posts- we literally lived in these shoes. We absolutely love the Gucci slides so much, and these Steve Madden ones are truly the best dupe we've ever seen. After purchasing them, they were the only shoes we wore from the time we bought them until there was snow on the ground (literally). It was so cold out and we were still going out sockless rocking our slides lol! We don't know what we would've done if we did not own them. For the longest time our go-to shoes were just basic flats, but these quickly took their place. They make every outfit look SO cute and put together, it's truly so crazy how a pair of shoes can just transform a look! These shoes are one of the most comfortable shoes we own, they're so convenient- you literally just slide them on and you're good to go lol. They're perfect when you're spending the day shopping or walking around a lot. These shoes are also a fraction of the price of the Gucci slides- so that's also a bonus too!
SLIDES: here |
17. Jewelry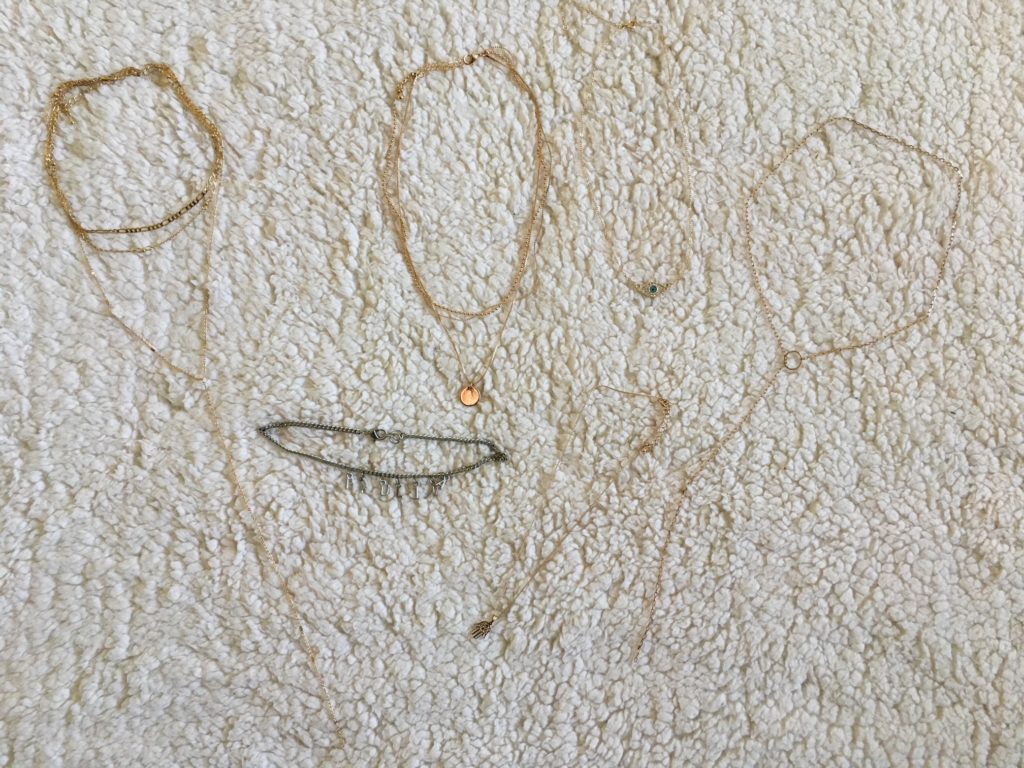 We have been so into jewelry this past year, specifically necklaces (chokers and stacked pieces) and anything dainty and simple! We love all types of metal (gold, silver, and rose gold) to mix with each other and different tones in outfits, and they honestly add so much to a look! By adding some simple jewelry, it instantly elevates the outfit and makes it seem more put together and "complete"! It's also great because it's not hard to find really nice pieces for affordable prices, and some of our favourites com from The 1074 and H&M! These jewelry trends are something we just can't get enough of and we are most definitely carrying them into 2018!