Hey everyone!! We are so excited for today's post! We asked you guys on Instagram if you'd be interested in a fall must haves shoes post and we received an overwhelming amount of feedback – which made us SO happy!! So here we are with some of our favourites for the season. If you guys ever have a blog post request please feel free to email, comment, or dm us – we'd love to hear from you! So back to what's important…shoes lol. We've created a list of some of our must have go to essential shoes for both fall and winter. These boots are so perfect and versatile for literally any look. Honestly if you choose to by one from each category or even one pair for the season, you will end up living in them. They just completely change the look of your outfit. We added a mix of price points that can fit everyone's budget. There are so many different types and styles of boots, so we created a list of the four main boot/bootie styles that we feel are an essential in everyone's wardrobe. Along with our categories, we've added pictures and links to each shoe – making them super easy to find! We hope you guys like our pics and find some inspo from this post! Scroll down for more pics, links, and all things BOOtie-full (see what we did there?! Lol)!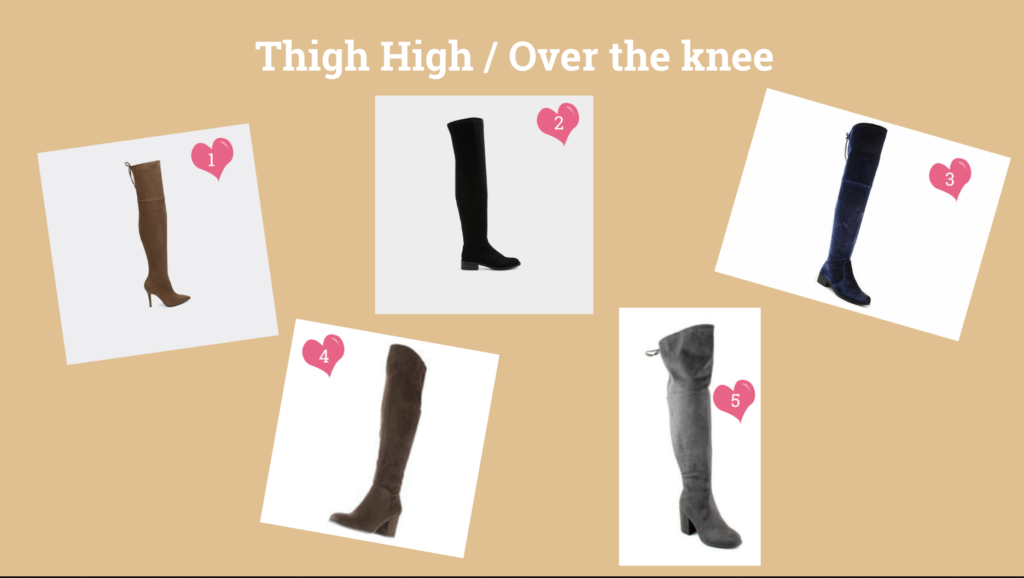 Thigh High Boots
Okay so these are some of our favourites. When we first initially entered university, we realized with wearing black ballet flats for four years straight – we really needed to step up our shoe game! One of the first pairs of boots we purchased were thigh highs and they are still just as in style today. This is a trend we think will be here for the long run, at this point it's not even a trend and more of a staple lol. Thigh high boots are perfect because you can dress them up or down, pairing it with so many different simple or basic looks, making them the focal point of the look. Another awesome thing about them is you can wear them at any heel height and they still have the same affect, a skinny taller heel, lower chunky, or no heel at all – we love them! If you are only thinking of purchasing and investing in pair, we suggest either black, neutral, or grey! If you are up for taking risks, we love royal blue gemstone, particularly velvet, its perfect to pair with greys playing off the blues. They would also look super nice during the holiday season!
Our Favourites
1. Here
2. Here
3. Here
4. Here
5. Here

Sock Booties
Sock booties are a major YES! If you're looking for a bootie with a heel, you need to buy one this style. They are just so beautiful and the perfect trendy yet classic shoe. They are super flattering on the leg and elongate your leg with the sock affect. These shoes look so high-end and "chic" even if they were purchased from somewhere like Payless or Forever 21. If you're going to only purchase one then black would be our suggestion, they match with literally everything and can pull off so many different vibes as well. Wearing them dressy with skirts, dresses and tights are such a flattering look. The we love the pointed toe ones and they are our favourite look when wearing sock booties. We are all about not only the colours for our booties but the textures. Obviously sock booties, a fabric sock material(ish) are a classic, we also love leather and velvet. Adding different textures can create so many different vibes. Some of our go to colours include black, nude, and white (yes – they can be worn in the fall and winter). Sock booties first came out into the scene as a higher end item but now thankfully for everyone they are so easy to find – literally everywhere has jumped on this trend as it's even more popular this season from last.
Our Favourites
1. Here
2. Here
3. Here
4. Here
5. Here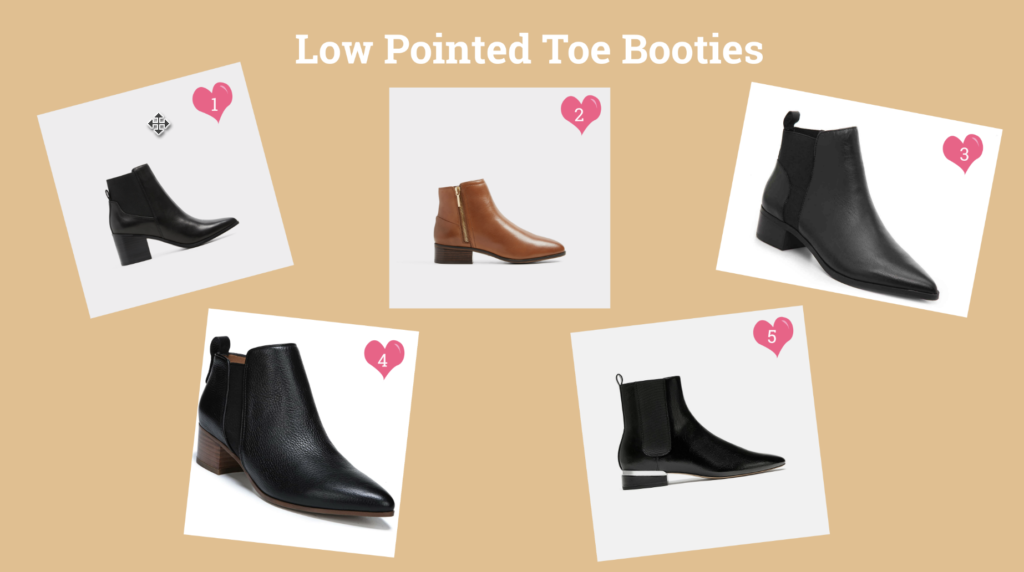 Low Pointed Toe Booties
Another major staple for us and any shoe collection!!! We actually wear this type of bootie nonstop, because of the fact that they're so easy to throw on, are comfortable all day long, and make any outfit look chic. Because these are some of our most commonly worn shoes in the fall and winter, we like to have a variation of colours and textures. Switching between leather and suede texture adds dimension to an outfit and can completely change the look. For these types of booties, we typically stick to a fairly neutral colour palette, or incorporate colours that look great with neutrals but that don't stick out too much from the outfit. Go-to colours for us are black (obvi and in like every texture lol), browns/caramel, greys, and we like to mix in some greys, beiges, olive green, etc.
Our Favourites
1. Here
2. Here
3. Here
4. Here
5. Here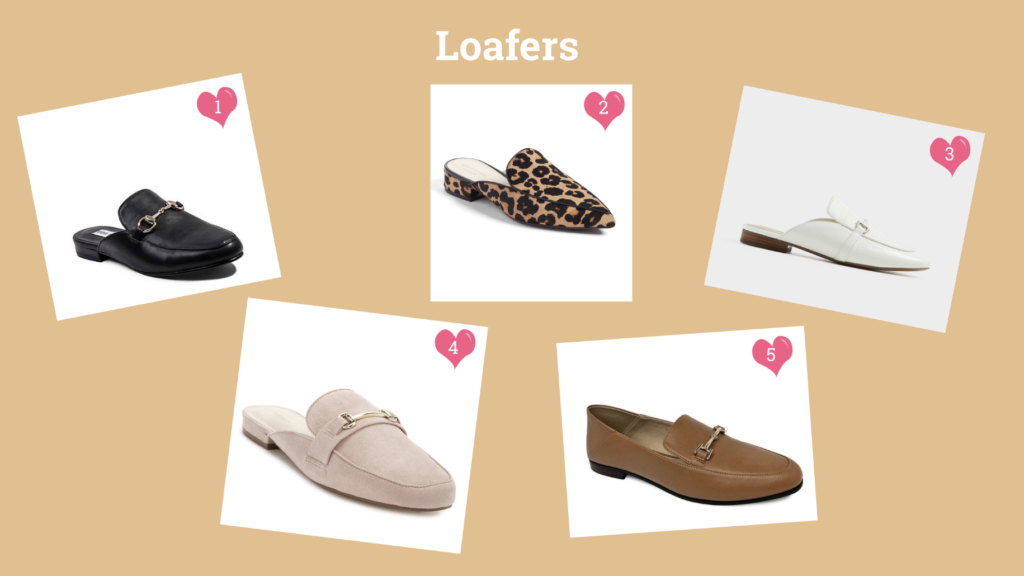 Loafers
We are literally obsessed with loafers and wear them ALL the time (as we're sure you guys have seen from out outfit posts lol). They are one of the most versatile shoes to wear, because they're so easy to literally slip on, and you can dress them up or down depending on the look you're going for. They are also probably the comfiest shoes ever (they're like our closed toe, fall/winter version of adidas slides lol). When we saw the Gucci Princeton loafers a few years back, we became obsessed and are pretty sure that's what started the craze! The great thing about loafers is that so many brands have made extremely close dupes for literally a fraction of the price of the Gucci ones. Also, having these shoes in a variety of colours is great, especially since they are such a staple and we do wear them ALL the time. Black is obviously number one, but other neutral colours like a camel/brown, white, a print, or even black with floral (so trendy) make the outfit possibilities, endless!
Our Favourites
1. Here
2. Here
3. Here
4. Here
5. Here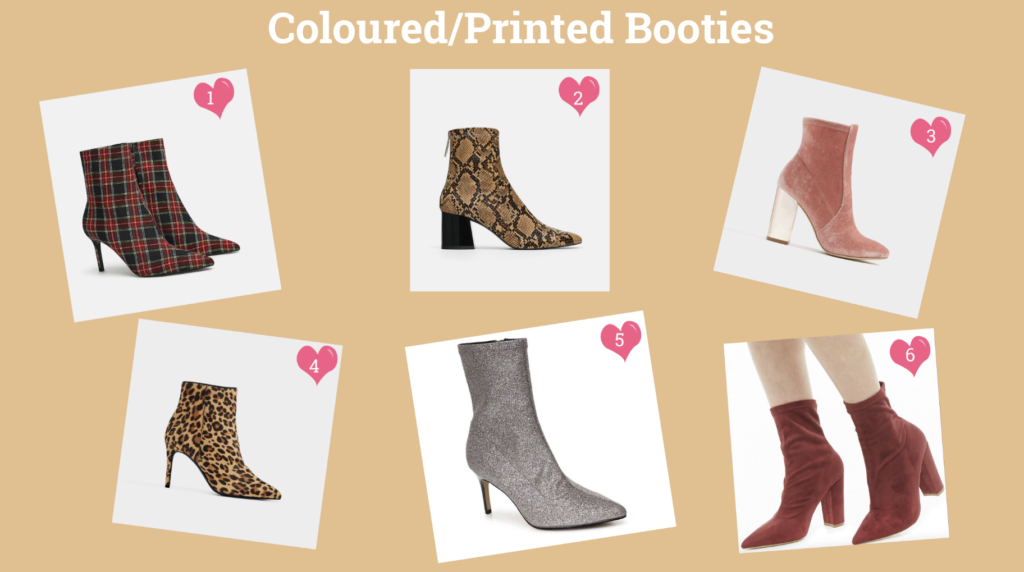 Coloured/Printed Booties
This is definitely a trendier category however this trend seems to be popular every year (and even if it's not, who cares)! We personally love either coloured or printed booties! They always end up being the focal point of a look, or something that really stands out from the overall look. Pro tip from us: shop for these boots at places like Zara! They always have super trendy pieces for great prices (that way you get the look without spending too much money) and you won't be upset if you only get a few seasons out of them (but don't worry; fashion is cyclical, so things ALWAYS come back in style)! The snakeskin, plaid, leopard, and bright coloured velvets and leathers are huge right now! Thankfully, tons of brands have different variations of these booties out which makes them fairly easy to find!
Our Favourites
1. Here
2. Here
3. Here
4. Here
5. Here
6. Here