Hey everyone! We're so excited for todays post! It's something a little different for us – if you like this post or style of post then please leave us a comment of anything else you'd like to see and read! We were so happy to receive a request from one of our friends from high school and had to get right to it! So, something about us, back in high school we really didn't experiment too much with shoes or even bother to purchase a variety. We stuck to the same basic flats, especially since we had to wear them every day with our uniforms at school – so it was just easy for us. It wasn't until university when we started to broaden our horizons with shoes and just overall purchasing more. Now we can't seem to stop and just realized really how much they complete and elevate a look. We honestly are not exclusive to any shoes or brands in particular and love to find deals whenever we can! In todays post we're going to share some of our favourite shoes of the season and some cute shoes from places you wouldn't even think to look – plus you cannot beat the prices. We always love a bit of a heal but realistically we LIVE in slides and flat shoes…. especially slides- they're a default/go-to for us. Like they've taken over flipflops for us which is huge, considering since we were little kids that's all we'd wear. Okay so we're just going to get into it! We've created 4 different must have categories for you guys and our personal favourites within them (all shoes are linked)!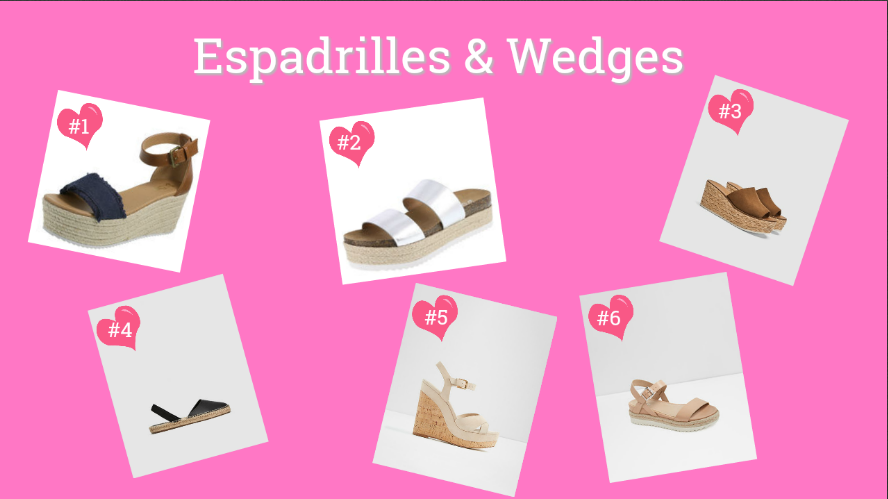 Espadrilles / Wedges
Wedges have been a spring and summer must have for as long as we can remember and doesn't seem to be going anywhere – anytime soon! Espadrilles are something that have been around for a little while, but to us seem to have just blown up this season and all the rage. Surprisingly they're easy to find to. Wedges are perfect for providing you with some height but super easy to walk in and very comfortable – they're essentially the perfect heel for the person who can't walk in heels! You can totally dress them up or down and wear them casually throughout the day without looking like you tired to hard. Espadrilles are basically a thick even level platform heel, it may take a little used to walking in them since your flat footed but elevated. But its also so awesome that they come in flats as well. Here are some of our favourties that we own and have scoped out for you guys. Payless has super cute and affordable ones (even with bogo you can get one 50% off…who doesn't love that!).
1. Here
2. Here
3. Here
4. Here
5. Here
6. Here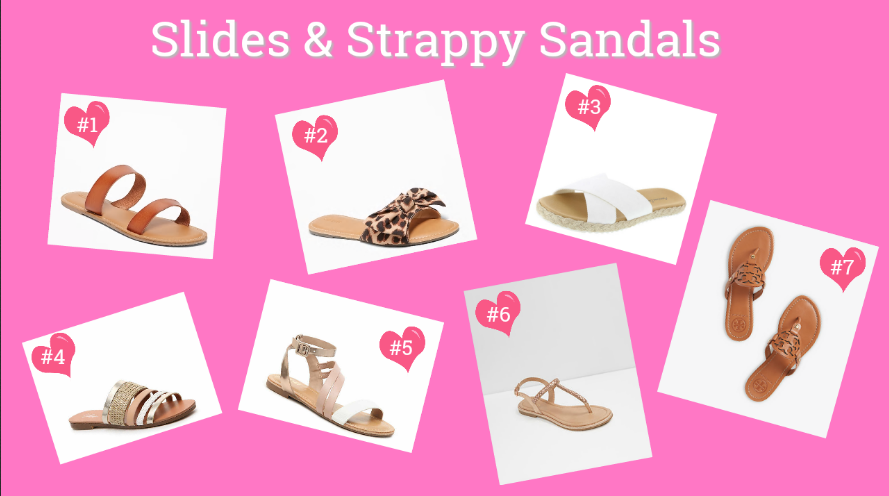 Slides / Strappy Sandals
Like we said earlier, slides have totally taken the place of flipflops. They just look so cute with outfits and super easy to literally slide on lol. With that being said we still do love and adore flipflops – especially the classic Tory Burch flipflops. They are an investment piece that truly do last you years. Plus, your feet have already stopped growing so you're guaranteed they'll always fit! There are obviously so many different types of slides and sandals and they are so easy to find but these are a few of our favs. Once you've accumulated the basic colours for slides (black, brown, white) then its fun to play around with bright colours and prints, making them the focal point of your outfit! Its always smart to also check out clothing stores for shoes, you'd be surprised how many cute sandals and slides the most random stores have for an affordable price. When we were in Walmart recently we saw some cute shoes there as well, who knew!
1. Here
2. Here
3. Here
4. Here
5. Here
6. Here
7. Here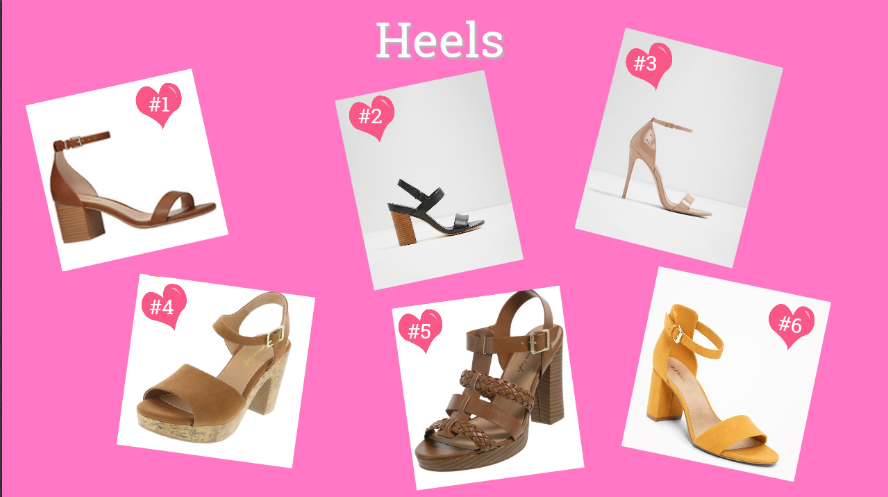 Heels
Okay, we both love heels and never seem to get away from them!! These are an absolute staple for us and we definitely have some go-to's that have been through it all…. and stayed comfy lol. The key to finding those perfect summer heels that you can spend hours in is to make sure you're finding what's suitable and comfortable for you (and your feet!). The classic ankle strap heels are our personal favs, and we literally wear these all year round. They go with everything and having them in multiple colours or just any heel you love/know you can wear in multiple colours makes it so easy to throw on. These are also very comfortable for us, and don't require much breaking in. We love chunkier and lower block heels as well, because they usually end up being great to walk in just judging off of the heel size and height alone. If you want to bring a look to the next level, heels are definitely a way to do that! They're a great way to switch up a look or make it more appropriate for certain occasions.
1. Here
2. Here
3. Here
4. Here
5. Here
6. Here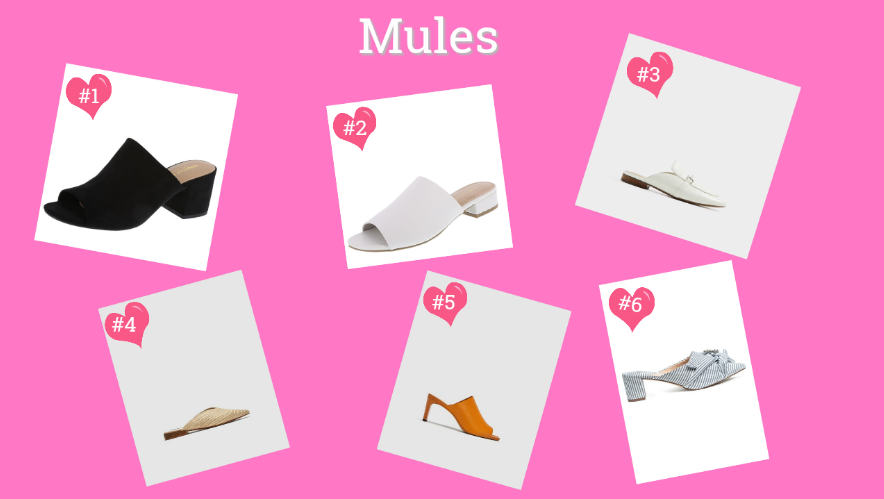 Mules
We are literally obsessed with mules!!! These are the type of shoes that just instantly make your outfit look chic or cool, without trying too hard. And, they're always suuper comfy because of the (generally) lower and thicker heel (if any). They're also super trendy and popular right now but are something that always seem to come back every year or just never go out of style. Because of this, it actually makes it pretty easy to find them and for great prices too! Tons of brands seem to be carrying these right now and in different styles and colours which is great if you're looking to expand that shoe collection! Payless and Aldo have some classic mules that you can pair with so many different looks and wear on a regular basis. Also, Zara and H&M are other brands that seem to have the more trendier styles which are great for adding a different element to the look.
1. Here
2. Here
3. Here
4. Here
5. Here
6. Here